Conversations that Matter: Is Canada's Refugee Program Equitable?
November 8/2016
By: Aylin Manduric, 4th year International Relations and Peace, Conflict, and Justice Studies student and editor-in-chief of Juxtaposition Magazine
When photos of three-year-old Alan Kurdi's lifeless body surfaced in the international media, it sparked an intense and emotional response from many members of the Canadian public. But what is Canada's duty to children like Alan Kurdi and to people around the world fleeing persecution and war?
On October 20, close to 100 academics, activists, doctors, and curious members of the public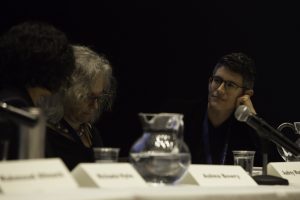 gathered at Innis Town Hall for a panel talk on Canada's refugee program. The panel was moderated by two prominent faculty from the Dalla Lana School of Public Health: Assistant Professors Andrea Cortinois, the Co-Director of the Global Migration and Health Initiative; and Lisa Forman, director of the Comparative Program on Health and Society at the Munk School of Global Affairs.
In his opening remarks, Cortinois emphasized how easy it is to think of the conflict in Syria as merely an opportunity for generosity. In fact, such crises entail a duty for the rest of the international community, and this kind of mislabelling can in fact be problematic.
While it is inspiring and heartwarming to witness compassionate private individuals making a difference in the lives of vulnerable people, we should not forget that granting refugees protection is a legal obligation and not an optional "bonus."
Cortinois invoked the image of Alan Kurdi in his opening remarks to the panel, suggesting that while many of the actions that were taken in the wake of the tragedy were the right actions, numerous questions about Canada's role in helping refugees remain unanswered. How many refugees does it take to fulfil Canada's obligation? What are we, as a country, willing and able to do?
The central question of the evening was this: Is Canada's refugee program equitable? The event's four panelists each responded from a unique perspective, shaped by personal and professional experience.
The first panelist was Mahmoud Allouch, who was born in Syria, and lived in seven countries before coming to Canada to study engineering at the University of Toronto. Unlike most engineers who work with concrete or mechanical structures, Allouch works with the social structures designed to help refugees integrate in Toronto.
Allouch shared his experience working as the coordinator of the Syria Project at the Arab Community Centre of Toronto, explaining some of the differences between groups of Syrian refugees that are often glossed over in the media. Some come to Canada with advanced degrees, speaking excellent English, or with relatives or friends they can turn to for help. Others come with absolutely nothing, and may not have ever attended school in their hometown.
Michaela Hynie followed Allouch and spoke to the value of using access to healthcare as a marker of social inclusion. The Canadian government's recent history relating to refugee healthcare, according to Dr. Hynie, has been one source of inequity in the refugee program.
"People without health insurance coverage are less likely to be able to access care, and more likely to die," said Dr. Hynie, Associate Professor and Refugee and Migration studies researcher at York University. Rolling back health insurance coverage for particular groups is, in this sense, an implicit endorsement of the idea that certain groups of people are less deserving of the means to live a healthy life than others.
The third panelist was Dr. Ashna Bowry, a lead physician in the Syrian refugee clinic in St. Michael's Hospital, cites lack of coordination as a major obstacle to equity as well.
"When refugees fleeing the Syrian Crisis first began to appear in Toronto, doctors weren't entirely sure how to accommodate the newcomers' specific health needs," said Bowry, noting that provincial health authorities did not provide a standard set of guidelines for health practitioners to follow when delivering care. To compensate, dozens of concerned institutions gathered together to create the Refugee Health Network to standardize primary care assessments for Syrian refugees. The network had to move quickly, and special clinics were set up specifically for Syrians.
She highlighted several issues of equity that arose from these clinics. The first was related to communications: not all refugees knew about the clinics, and it seemed that privately sponsored refugees were using the clinics much more than government assisted refugees who demonstrated high need. While the capacity to handle larger volumes of refugees has been built, in this case, available resources are not being used to their full extent. The other issue is related to the fact that while millions of people have been displaced by the conflict in Syria, there are many other refugee crises: close to 60 million people are displaced around the world today.
To close the panel, Professor Audrey Macklin highlighted the importance of looking beyond the policies that regulate access to care for refugees that are already here, and questioning the ways in which Canada filters and selects who is permitted within our borders. The "good" refugees — the ones that are allowed to exist in our country — are those who have been chosen.
"Choosing who gets to be a refugee is an exercise of Canadian sovereign control," said Macklin, Professor and Chair in Human Rights Law at the University of Toronto. She also noted that those who are selected are considered to be more deserving of good treatment, of access to services, and, implicitly, of life, on that basis.
"Refugees who are desperate, and who sneak into the country, turn up without proper documentation, or who come in with forged documents are detained, criminalized, and often subject to risk of deportation or prolonged detention." In some cases, refugee claimants being held in detention are subjected to solitary confinement, which after 15 days constitutes cruel and unusual treatment.
The equity issue is thus broad-based, and touches upon a number of Canadian human rights and international law obligations. As the government seeks to expand the refugee program, coordination and coherence, as well as compassion are needed to ensure that the people who come to us for help are equitably taken care of.
In addition to exploring these important questions about equity, the evening supported a good cause: proceeds from ticket sales, as well as from a silent auction held after the panel, were channeled to the Marhaba Committee, a private sponsorship group helping a refugee family settle here in Toronto.
Click here to read the full article in Juxtaposition Magazine.