Location

Grad Room, 66 Harbord Street

Series/Type

Dates

March 22, 2017 from 5:30pm to 7:00pm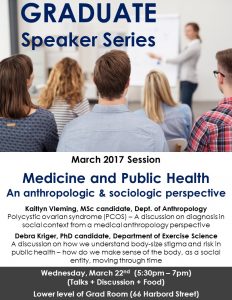 We will be discussing medicine and public health from a medical anthropolgy and social sciences perspective. We will have two speakers – the first speaker will present her work on the lived experiences of people with polycystic ovarian syndrome (PCOS) and discuss the diagnosis in social context from a medical anthropology perspective. The second speaker will discuss how we understand body size stigma and risk in public health with a focus on how do we make sense of the body, as a social entity, moving through time.
Pizza will be served.
Links