Contact

Location

HS106

Series/Type

Dates

September 15, 2017 from 1:00pm to 3:00pm
September 29, 2017 from 1:00pm to 4:00pm
October 13, 2017 from 1:00pm to 4:00pm
October 27, 2017 from 1:00pm to 4:00pm
November 10, 2017 from 1:00pm to 4:00pm
November 17, 2017 from 1:00pm to 4:00pm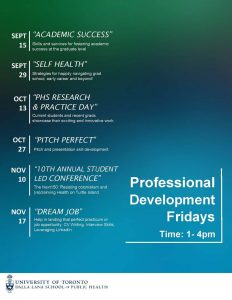 Pitch Perfect!
Friday, Oct. 27, 2017
Emory International Global Health Case Competition and Toronto Thinks (1PM-2PM, HS106):
Event Description: Hosted by the Office of Global Public Health Education & Training, this session will give students the opportunity to learn more about upcoming opportunities to participate in case competitions. Case competitions challenge participants to use their problem solving and analytical skills in a team setting, navigate a complex real world issue, and present it to a panel of experts in the area. It is an intensive but rewarding experience that provides students the opportunity to ignite their intellectual curiosity, better understand team dynamics, and network with other students and experts. During the session, the 2017 DLSPH Emory Global Health International Case Competition Team will present their case presentation (which won them 2nd place and the people's choice award). They'll also give feedback on the benefits of participating in the competition. The OGPHET will answer questions about the upcoming Toronto Thinks Global Health Case Competition. Students will also have the opportunity to network with their peers to form Toronto Thinks teams.
Graduate Oral Presentation Skills (2PM-3:30PM, HS106):
Speaker: Dr. Rachael Cayley
Workshop Description: Oral presentation skills are crucial for both academic and professional success. In this workshop, we will discuss creating focused presentations, managing nerves, designing effective visual support, and handling audience questions. – Brought to you by the Graduate Centre for Academic Communication
Voice and Speech Workshop (1PM-3PM, HS696):
Speaker: LJ Nelles, Voice, Speech and Communication Teacher & Coach
Workshop Description: Our voices are influenced by conscious and unconscious habits, health and physical well-being. Learn to free your voice through breath, alignment and gentle techniques to assist you to realize your full potential to communicate. In this workshop you will:
learn to free and support your natural voice through breath awareness and alignment
learn to connect to what you're saying and who you're saying it to
shift the patterns that inhibit your communication
How to build thought leadership by sharing relevant content to your network
Nov. 17, 2017 (2:00-3:00 p.m. in HS106):
How to create a strong presence (Headline & Summary) How to connect properly to build a quality network – this includes job prospecting and how to turn a cold call into a warm introduction.
Links