Contact

Location

Best Institute- Room 114, 112 College Street, Toronto

Dates

September 21, 2017 from 4:00pm to 8:30pm
Panel discussion and networking session about improving road safety to protect children's health and safety. Learn about and discuss work being done internationally, nationally, and locally, such as Vision Zero and Safe Routes to School, to promote road safety and protect youth on our roads.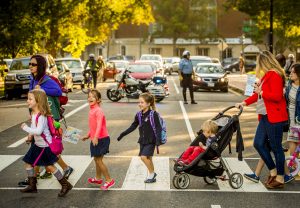 Moderator:  Dr. Lawrence C. Loh – Associate Medical Officer of Health, Peel Public Health
Panelists: 
Natalie Draisin – Director, North American Office & United Nations Representative, FIA Foundation
Dr. Eileen de Villa – Medical Officer of Health, Toronto Public Health
Pamela Fuselli – Vice President, Knowledge Transfer & Stakeholder Relations, Parachute Canada
Barbara Gray – General Manager, Transportation Services, City of Toronto
Valerie Smith – Director, Solutions, Parachute Canada
Stay on for an evening of networking with the Young Public Health Professionals' Network at The Prenup Pub (191 College Street).
Links