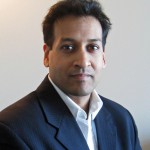 Faculty Member
Prithwish De MHSc, PhD
Email Address(es)

Office Address

Cancer Care Ontario, Surveillance & Cancer Registry, Analytics & Informatics 505 University Avenue, 15th Floor Toronto, ON, M5G 1X3

Division(s)

Position

Assistant Professor

SGS Status

Associate Member

Appointment Status

Status Only
Research Interests
cancer epidemiology
cancer surveillance
cancer registry
Education & Training History
Prithwish De is a cancer epidemiologist and Director of the Cancer Surveillance program and Registry at Cancer Care Ontario. He was formerly with the Canadian Cancer Society where he led CCS's contribution to the annual Canadian Cancer Statistics publication. He is also a cancer surveillance researcher and spokesperson on national cancer surveillance-related matters. Prior to his current role, he spent several years as a senior epidemiologist with the Public Health Agency of Canada where he worked in the surveillance of HIV, STIs, hepatitis, communicable diseases in prison inmates, and adverse events related to blood transfusions. As a member of the Division of Epidemiology at the Dalla Lana School of Public Health, he is involved in the mentoring and supervision of MPH students and practicum placements, and sits on various administrative or admissions committees. He completed his formal training at the University of Toronto where he earned his Masters in Community Health & Epidemiology, and at McGill University where he earned his PhD in Epidemiology.
Current Research Projects
Population attributable cancer risk due to lifestyle and environment
Representative Publications
De P, Otterstatter MC, Semenciw R, et al. Kidney cancer incidence, mortality and survival trends in Canada: 1986-2007. Cancer Causes & Control 2014;25(10):1271-81

Kachuri L, De P, Ellison LE, Semenciw R. Cancer incidence, mortality and survival trends in Canada, 1970-2007. Chronic Dis Inj Canada 2013;33(2):69-80

Otterstatter MC, Brierley JD, De P, et al. Esophageal cancer in Canada: Trends according to morphology and anatomical location. Can J Gastroenterol 2012;26(10):723-7

Peterson EL, De P, Nuttal R. BMI, diet and female reproductive factors as risks for thyroid cancer: a systematic review. PLoS One 2012;7(1): e29177

De P, Ellison L, Barr RD, et al. Canadian adolescents and young adults with cancer: opportunity to improve coordination and level of care. CMAJ 2011; 183: E187-194

De P, Neutel CI, Olivotto I, Morrison HI. Breast cancer incidence and hormone replacement therapy in Canada. J Natl Cancer Inst 2010; 102(19):1489-95

Ellison LF, De P, Mery LS, Grundy PE. Cancer statistics at a glance: Childhood cancer in Canada (0-14 years). CMAJ 2009;180(3): 422-4.

Marrett LD, De P, Aria P, Dryer D. Cancer in Canada in 2008. CMAJ 2008;179(11):1163-70.

Alexander PE, De P. HIV-1 and intestinal helminth review update: updating a Cochrane Review and building the case for treatment and has the time come to test and treat? Parasite Immunol 2009;61(3):283-6.

Alexander PE, De P, Rave S. Is H9N2 avian influenza virus a pandemic potential? Can J Infectious Dis Med Micro 2008;20(2):e35-36.

Wong T, Singh AE, De P. Primary syphilis: serologic response to doxycycline or tetracycline versus benzathine penicillin G for treatment of primary syphilis. Am J Med 2008;121(10):903-8.

De P, Roy E, Boivin JF, Cox J, Morissette C. Risk of hepatitis C virus transmission through drug injecting equipment: a systemic review. J Viral Hepatitis 2008;15(4):279-92.

Cox J, De P, Morissette C, et al. Low perceived benefits and self-efficacy are associated with HCV-related risk among injection drug users. Soc Sci Med 2008; 66(2):211-20.

De P, Cox J, Jolly AM, Platt RW, Boivin J-F. Social network-related risk of bloodborne infections associated with secondary syringe exchange among injection drug users. J Urban Health 2008; 85(1):77-89.

Singh AE, Wong T, De P. Characteristics of primary and late latent syphilis cases initially non-reactive with the Rapid Plasma Reagin (RPR) as the screening test. Int J STD & AIDS 2008; 19(7): 464-8

De P, Cox J, Boivin J-F, Platt RW, Jolly AM. The importance of social networks in their association to drug equipment sharing among injection drug users: a review. Addiction 2007;102(11):1730-9.

Alexander PE, De P. The emergence of extensively drug-resistant tuberculosis: TB/HIV coinfection, multi-drug resistant TB, and the resulting public health threat from extensively drug resistant TB, globally and in Canada. Can J Infect Dis Med Microbiol 2007;18(5):289-91.

Morissette C, Cox J, De P, et al. Minimal uptake of sterile drug preparation equipment in a predominantly cocaine injecting population: implications for HIV and HCV prevention. Intl J Drug Policy 2007;18:204-12.

De P, Singh AE, Wong T, Kaida A. Predictors of gonorrhea reinfection in a cohort of sexually transmitted disease patients in Alberta, Canada, 1991-2003. Sex Trans Dis 2007;34(1):30-6.

De P, Jolly AM, Cox J, Boivin J-F. Characterizing drug injecting networks of cocaine and heroin injectors. Can J Pub Health 2006;97(3): 207-9.

De P, Connor N, Bouchard F, Sutherland D. HIV and HCV seropositivity rates in Canadian federal penitentiaries: a critical opportunity for care and prevention. Can J Infect Dis 2004;15(4): 221-5.

De P, Jolly AM, Singh AE, Wong T, Yacoub W. Sexual network analysis of infection transmission in a gonorrhea outbreak. Sex Trans Infec 2004;80:280-285.

De P, Singh AE, Wong T, Yacoub W. Outbreak of Neisseria gonorrhoeae in northern Alberta, Canada. Sex Trans Dis 2003;30(6):497-501.