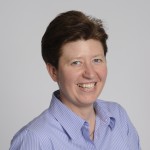 Faculty Member
Vicki Kristman PhD
Email Address(es)

Office Phone

807-343-8961

Office Address

955 Oliver Road Thunder Bay, Ontario P7B 5E1

Website(s)

Division(s)/Office

Position

Assistant Professor

SGS Status

Associate Member

Appointment Status

Status Only
Research Interests
Epidemiology of musculoskeletal and brain injury
Work disability prevention
Occupational health epidemiology
Sports injury epidemiology
Cohort studies
Ethical issues in epidemiology
Systematic reviews of observational studies
Education & Training History
| | |
| --- | --- |
| 2010 | CIHR Work Disability Prevention Training Program, Université de Sherbrooke |
| 2010 | CIHR Post-doctoral fellowship in work disability prevention and epidemiology, Toronto Western Research Institute, University Health Network |
| 2007 | Ph.D. (Epidemiology), Department of Public Health Sciences, University of Toronto |
| 1999 | M.Sc. (Epidemiology), Community Health & Epidemiology, Queen's University at Kingston |
| 1996 | B.Sc. (Biomedical Sciences), University of Guelph |
Professional Summary & Appointments
Assistant Professor, Department of Health Sciences, Lakehead University
Assistant Professor, Dalla Lana School of Public Health, University of Toronto
Assistant Professor, Division of Human Sciences, Northern Ontario School of Medicine
Associate Scientist, Institute for Work & Health
Honours & Awards
CIHR Fellowship, Return to work and sustained employment after a motor vehicle collision: a population-based inception cohort study, University Health Network $135,000 10/2007 – 10/2010
Current Research Projects
1. A supervisor training program for work disability prevention: a Cluster Randomized Controlled Trial
Principal Investigator: Kristman VL
Co-investigators: Shaw W, Loisel P, Amick B, Boot C, Hogg-Johnson S
Submitted to: Canadian Institutes of Health Research (CIHR)
Program: Mar 2013 Operating Grant – Priority Announcement: Population Health Interventions
Amount: $100,000
Term: 01/03/2013-28/02/2014
2. Promoting employment success through workplace accommodation following traumatic brain injury and electrical injury.
Principal Investigator: Colantonio A
Co-principal investigator: Stergiou-Kita M
Co-investigators: Bayley M, Cassidy JD, Gomez M, Jeschke M, Kirsh B, Kristman V, Vartanian O
Submitted to: Canadian Institutes of Health Research (CIHR)
Program: March 2012 Operating Grant – Priority Area: Gender, Sex and Health Research
Amount: $100,000
Term: 10/2012-09/2013
3. Prognosis for Mild Traumatic Brain Injury in the Elderly Population: a Pilot Cohort Study
Principal Investigator: Kristman VL
Co-investigators: Chisholm S, Bédard M, Brison R
Submitted to: Ontario Neurotrauma Foundation
Program: Traumatic Brain Injury (TBI) Sustained in the Older Population
Amount: $97,424
Term: 06/2012-05/2014
4. Supervisors' perspective on accommodating back injured workers: a mixed-methods study
Principal Investigator: Kristman V
Co-investigators: Shaw W, Loisel P, Soklaridis S, Williams-Whitt K
Submitted to: Canadian Institutes of Health Research (CIHR)
Program: September 2009 Operating Grant
Amount: $80,469
Term: 10/2010-03/2014
Representative Publications
Kristman VL, Borg J, Godbolt A, Salmi LR, Cancelliere C, Carroll L, Coronado VG, Holm LW, Nygren-de Boussard C, Hartvigsen J, Cassidy JD. Methodological issues and research recommendations for prognosis after mild traumatic brain injury: findings of the International Collaboration on MTBI Prognosis (ICoMP). Archives of Physical Medicine & Rehabilitation, (in press).

Côté P, Yang X, Kristman V, Hogg-Johnson S, Van Eerd D, Rezai M, Vidmar M. The association between workers' compensation claims involving neck pain and future health care utilization: a population-based cohort study. Journal of Occupational Rehabilitation 2013;online April 23. DOI 10.1007/s10926-012-9415-8

Johnston T, Kristman V, Brison R. Descriptive analysis of work and non-work related motor vehicle collisions in Kingston, Ontario. Work 2012;43(2):115-21.

Cancelliere C, Cassidy JD, Côté P, Hincapié CA, Hartvigsen J, Carroll LJ, Marras C, Boyle E, Kristman V, Hung R, Stålnacke B-M, Rumney P, Coronado V, Holm LW, Borg J, Nygren-de Boussard C, Af Geijerstam J-L, Keightley M. Protocol for a systematic review of prognosis after mild traumatic brain injury: an update of the WHO Collaborating Centre Task Force findings. Systematic Reviews 2012;1(1):17.

Kristman VL, Hartvigsen J, Leboeuf-Yde C, Kyvik KO, Cassidy JD. Does radiating spinal pain determine future work disability? A retrospective cohort study of 22,952 Danish twins. Spine 2011;37(11)):1003-13.

Van Eerd D, Côté P, Kristman V, Rezai M, Hogg-Johnson S, Vidmar M, Beaton D. The course of work absenteeism involving neck pain. A cohort study of Ontario lost-time claimants. Spine 2011;36(12):977-982.
Kristman V, Côté P, Hogg-Johnson S, Cassidy JD, Van Eerd D, Vidmar M, Rezai M, Wennberg RA. The burden of work disability associated with mild traumatic brain injury in Ontario compensated workers: a prospective cohort study. Open Occupational Health and Safety Journal 2010;2:1-8.
For updates, see https://www.researchgate.net/profile/Vicki_Kristman2/