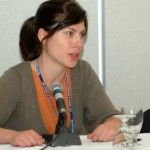 Faculty Member
Charlotte Lombardo BSc, MHSc
Email Address(es)

Office Phone

416-978-4387

Office Address

155 College street Room 660 Dalla Lana School of Public Health, University of Toronto Toronto , Ontario M5T 3M7

Division(s)/Office

Position

Lecturer

SGS Status

Associate Member

Appointment Status

Contract

Admin Position

MPH Health Promotion Program Director and Master's Graduate Coordinator
Research Interests
My work is rooted in community engaged scholarship, drawing from the traditions of community development and community-based participatory research. My main area of focus is youth health promotion, with a particular emphasis on the role of creative placemaking for the engagement and empowerment of young people living on the margins.
Education & Training History
1999 – 2001 University of Toronto – Masters of Health Science in Health Promotion, Collaborative Programme in Women and Gender Studies
1994 – 1998 McMaster University – Honours Bachelor of Science in Biology
Other Affiliations
Sketch – Working Arts for Street Youth, http://www.sketch.ca/
Community Campus Partnerships for Health, https://www.ccphealth.org/
Primary Teaching Responsibilities
CHL 5803H – Health Promotion 1
CHL 5801H – Health Promotion 2
Professional Summary & Appointments
Over fifteen years designing and implementing health promotion and community development projects and programs, including seven years of senior management experience, working with diverse populations and managing multi-stakeholder partnerships, with a special focus on youth populations. Extensive experience in community-based research and knowledge translation, engaging with policy-makers, academic and community audiences. Professor and program director for the DLSPH MPH-Health Promotion program, Graduate Coordinator for DLSPH Master's programs.
CURRENT Research Projects
Core Competencies for Youth Engagement through the Arts – Developing a Learning Framework, funded (in part) by SSHRC
Uncovering the Social Health Impacts of Engagement in Community Arts for Youth Living Homeless or on the Margins
Representative Publications
Norman, C.D., Yip, A.L., Charnaw-Burger, C., Saad, S., & Lombardo, C. (2010) Designing Health Innovation Networks Using Complexity Science and Systems Thinking: The CoNEKTR Model. Journal of Evaluation in Clinical Practice, 16(5): 1016-1023.
Meyer T., Lombardo C., Escobar C., & Norman T. (2008) Diversities, Capacities and Transitions: What Happens When Youth Advisors Age Beyond 'Youth'? Policy paper prepared for the Public Health Agency of Canada. Youth Voices Research: University of Toronto.
Larkin J., Lombardo C., Walker L., Bahreini R., Tharao W., Mitchell C., & Dubazane N. (2008) Taking It Global Xpress: Youth, Photovoice and HIV/AIDS. In N. De Lange & C. Mitchell (Eds) Putting People in the Picture: Visual Methodologies for Social Change. The Netherlands: Sense.
Flicker S., Maley O., Biscope S., Lombardo C. & Skinner H. (2008) e-PAR: Using Technology and Participatory Action Research to Engage Youth in Health Promotion. Journal of Action Research, 6(3): 285-303.
Lombardo C. (2007) Youth Engagement in Ontario: Towards a Community of Practice. Report prepared for the Public Health Agency of Canada. Youth Voices Research: University of Toronto.
Ridgely A., Lombardo C., Morrison M., Poland B. and Skinner H. (2004) Youth Voices: A Guide for Youth Expression and Action. TeenNet Research: University of Toronto.
Morrison M., Lombardo C., Biscope S. and Skinner H. (2004) Youth Action Guide: Community-Based Smoking Prevention. TeenNet Research: University of Toronto.
Lombardo C., Zakus D. and Skinner H. (2002) Youth Social Action: Building a Global Latticework through Information and Communication Technologies, Health Promotion International, 17(4): 363-372.
Lombardo C. (2001) Youth Action as a Tool for Youth Health Promotion, Ontario Health Promotion E-Bulletin #204, April 20.