The Multiple Burden Project
The Multiple Burden Initiative seeks to understand and redress the ways in which identities are socially constructed and placed in hierarchies, thereby leading to social inequity.
This work is based on intersectionality of overlapping identities or intersecting social identities and related systems of oppression, domination and discrimination. The initiative seeks to examine the manifold ways in which biological, social and cultural constructed categories such as gender, race, class, ability, sexual orientation, religion, caste, age and other axes of identity interact on multiple and simultaneous levels in which some people with multiple identities (based on race, ethnicity, class, gender, religion, etc.) experience greater systematic injustice and oppression leading to greater social inequity.
This initiative will nurture activities that seek to understand and redress these inequities to advance progress in this neglected area of global health by sparking new interdisciplinary collaborations.
Shanti Ashram
For the past 30 years, Shanti Ashram, an international Gandhian Center for Development, Learning and Collaboration, has been accompanying communities and individuals in their efforts to move out of poverty, address inequalities, build creative leaders and ensure sustained development. The Ashram focuses its attention on supporting communities to meet their development aspirations and in bringing the voices of the world's peoples into deliberations. This is a cherished ideal that is at the spirit and heart of the Shanti Ashram. With this in mind, the Ashram continues to serve as a creative laboratory (a collaboratory) to lead development initiatives that are spiritually motivated and socially relevant.
The Ashram's work today touches the lives of more than 380,000 people in their immediate service area of 106 villages and 23 panchayats (local self-governance structures) located in and around the southern city of Coimbatore.
The Ashram's work finds expression in four specialized program divisions which are:
Bala Shanti Program For Vulnerable Children
Community Health Program
Sustained Development Program
Youth Leadership Program
Bala Shanti Program for Vulnerable Children
EDUCATION FOR LIFE
"To educate girls is to reduce poverty"
-Former UN Secretary General Kofi Annan
The Bala Shanti program, which began in 1991 and completed 25 years, works on the premise that educational empowerment is fundamental in ensuring rights to holistic development. Based on the pioneering work of the Ashram's founders, Dr. M Aram and Mrs. Minoti Aram, in drafting the work of the Convention for the Rights of the Child (CRC). The Ashram's experience demonstrates that a focus on early childhood development and children's education can break the trans-generational cycle of poverty and give vulnerable children a hopeful start in life. This program has served 83,000 vulnerable children in remote rural and urban settings through 12 Bala Shanti Kendras (Pre-schools) with a curriculum that promotes interfaith peace building and nurtures children to realize their potential and their rights.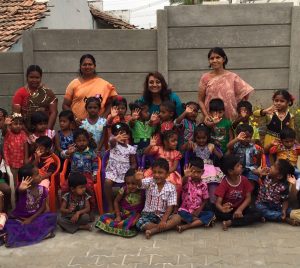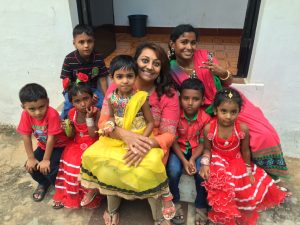 Community Health Program
The Ashram believes that promoting health is an essential pre-requisite to building empowered communities. The well-being of individuals depends on their health and freedom from illnesses. While the Ashram's programs deal with low sanitation coverage, hunger, education, environmental pollution, it also recognizes that the lack of attention to utilize accessible and cost effective health prevention interventions is an important unaddressed need for sustainable development. Thus, the Ashram works to integrate health into its initiatives and programs, such as the HIV/AIDS and the Sudar Program, Community-based Non-Communicable Disease (NCD) screening for vulnerable women, Healthy Start, Malnutrition, Well Child Outreach.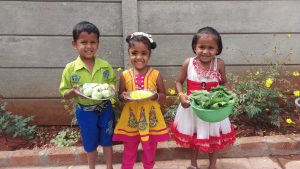 Malnutrition
Sustained Development Program
EMPOWERING RURAL WOMEN FOR SUSTAINABLE LIVELIHOOD
"What seemed impossible yesterday seems possible for me today"
-A quote from a Ms. Kalpana, a Kasturba Gandhi Awardee
Globally, many macro-economic processes link countries together under the logic of the global market. This global market place, however, excludes increasing numbers of people, particularly women, from less privileged communities. Women's organizations around the world have worked to build bridges based on solidarity, common aspirations and shared concerns to improve the status of women: socially, economically and politically.
Of India's billion plus population, women make up 48% of the total population and 18% of this total population is employed in the organized sector. Women make up a vast majority of this still excluded and mostly unskilled and unorganized sector. The Ashram's focus is thus to develop specific livelihood solutions focused on empowering these vulnerable women through vocational training and the creation of a year-long entrepreneurship program that develops their skills to flourish in their livelihoods.
The Program was launched in 1986 and a cross sectional profile of the women trainee participants demonstrates the following:
75% are from families living in poverty
50% are from minority communities
40% are either school dropouts, deserted by their partners or are widows
Many are women living with HIV
15% in the past 5 years have enrolled themselves in the Ashram's enterprise incubators
50% have found employment upon graduation
Recently, IGHEI worked with the Shanti Ashram to conduct a SWOT analysis of the Consortium for Women Entrepreneurs, a group of 100 women entrepreneurs that has received small loans to create and operate their businesses. The SWOT provided guidance for the scale up of the Consortium from 100 women entrepreneurs to 300 women entrepreneurs.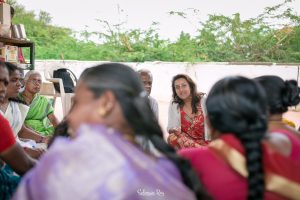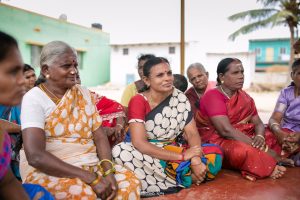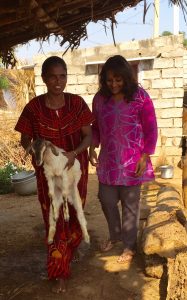 Youth Leadership Program
At the Shanti Ashram, youth participation and leadership in serving the community are encouraged. As a result, a number of initiatives are led by youth in an effort to alleviate poverty and promote health and sustainable development.
Complementing the four program divisions is the Mahatma Gandhi Institute for Peace, Leadership and Development. This was a programmatic advance as part of the Ashram's Silver Jubilee and dedicated to on January 30, 2012 (on the memorial day of Mahatma Gandhi), the Institute aims to increase the involvement of youth in collaboration with the international community by providing a critical space for creative thinking, research, capacity building and collective action in improving inequities. The vision of the Institute is to realize the spirit of Mahatma Gandhi and contribute to developing leadership capacities, improving service outreach to vulnerable communities and re-imagined partnerships which foster a critical understanding of Gandhi's methods. The Institute collaborates with Gandhian organizations, academic institutions, government partners, development organizations, faith based organizations, industry representatives, media and volunteer groups to work together to support compassionate and competent interventions and create and transform innovative development activities and bring them to scale.
The Institute focuses on the following:
Unveiling Transformational Leadership Spaces by engaging young professionals, faith leaders, women entrepreneurs and development workers in active dialogues on pressing social issues focused on development, rights and health. In 2014-2015, the program engaged 448 young people from 18 institutions, 7 states of India and 3 countries.
Building and Sharing Knowledge for Improved Service Delivery to vulnerable communities through research and partnerships with a focus on creative thinking and ideation, knowledge management, resource appreciation, field exposure, people to people exchange, study of best practices, exploring various development paradigms and interfaces, supporting partnership platform building and leadership activities.
Building and Sharing Expertise in Public Health Delivery with a focus on innovative program design, engagement with academic institutions and the international community (including focus on vulnerable children, HIV-AIDS, non communicable diseases and care of the elderly)
Strengthening Democratic Governance by providing leadership training for elective representatives and driving citizen empowerment
Lancet Series on Women's Cancer Equity
Background on Women's Cancers
Breast and cervical cancer are the most common cancers in women, with the majority of deaths occurring in young, mostly premenopausal women in low- and middle-income countries (LMICs).  Yet, these cancers receive far less funding, advocacy, political and public attention in these settings.  Their situation is further compounded by the fact that they experience higher burdens of disease overall, have poor access to care, generally only access care once the disease has advanced and is incurable, and have increased chances mortality than women in resource-rich settings.
Extreme poverty compounded by gender inequity often limits a woman's choice to seek cancer care. Where proper medical care is available, it is often unaffordable; the direct and indirect costs of care can lead to catastrophic expenditure that destroys not only the woman's future, but also her family's. But for most of the world's population, proper medical care is unavailable; there is little opportunity for early detection of breast and cervical cancer, and limited access to safe surgery, chemotherapy, radiotherapy, as well as supportive and palliative care.
So where do women's cancers fit on the global health agenda? Despite significant advocacy, media attention and funding for cancer in high-income countries, breast and cervical cancer are effectively neglected diseases in low-income countries, where cancer contributes to the cycle of poverty.
The Lancet has commissioned a group of experts, led by Professor Ophira Ginsburg, in breast and cervical cancers, women's health, health economics, and gender and health equity to spark new interdisciplinary collaborations and to advance progress in this neglected area of global health. Rani Kotha, Institute for Global Health Equity and Innovation is a contributor to the health equity and gender equity portions of the Series.
This new Lancet Series on Health, equity, and women's cancers explores this neglected issue in global health.  The Series explores the burden of cervical and breast cancer globally and inquities in incidence, survival and mortality rates, including practical and cost-effective interventions that could work to close the gap between LMICs and high-income countries, and drive change in global policy needed to deliver equitable, safe and affordable care for women.
This Series will be officially launched in Paris during the World Cancer Congress on November 2, 2016 by Richard Horton. Collaboration with the Women's College Research Institute, CIHR, Institute for Cancer Policy, King's College for the Lancet Series.
To read the latest on this issue from Ophira Ginsburg and Rani Kotha, see the following:
Ophira Ginsburg, Freddie Bray, Michel P Coleman, Verna Vanderpuye, Alexandru Eniu, S Rani Kotha, Malabika Sarker,Tran Thanh Huong, Claudia Allemani, Allison Dvaladze, Julie Gralow, Karen Yeates, Carolyn Taylor, Nandini Oomman, Suneeta Krishnan, Richard Sullivan, Dominista Kombe, Magaly Blas, Groesbeck Parham, Natasha Kassami, Lesong Conteh, The global burden of women's cancers: a major unmet challenge in global health, The Lancet Series, Health, equity, and women's cancers, THELANCET-D-15-08928R2, S0140-6736(16)31392-7 (IN PRESS).
For more information about The Lancet Series visit the website.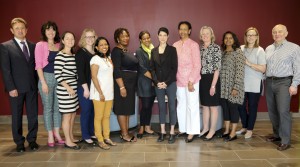 Financial support for the June 4-5, 2015 Lancet Series planning meeting in Toronto (group pictured above) was provided by IGHEI and the Dalla Lana School of Public Health.