One Toronto for the World
Hunger in the time of food abundance and waste: An invitation to turn an unfortunate paradox into positive change
Did you know that the United Nations' Food and Agricultural Organization has estimated that eradicating world hunger would require around US$30 billion annually?
Did you know that Canadians waste about $107 billion worth of food every year?
Did you know that 40% of post-secondary students in Canada experience hunger?
What would it take for Canadians to harness the abundance of food they enjoy to eliminate hunger in the country and the world?
Continuing its efforts to unleash a pandemic of health, IGHEI will be present at the Pan American Food and Music Festival to invite as many of its 50,000 visitors to ponder these questions, and to motivate transformative action.
 The Festival will be held in Toronto at Yonge-Dundas Square, on August 12 & 13, 2017.
IGHEI and students from University of Toronto International Health Program (UTIHP) and community partner, Feed it Forward, will expose festival-goers to activities such as a 'blind basket' blemished food competition with locally renowned chefs, as a means to highlight opportunities for public health innovations focused on the paradoxical combination of food insecurity, abundance and waste. Visitors will also learn about the myriad ways in which U of T is using the city as an incubator for 'glocal' (global and local) collaborative breakthroughs that could promote health for all.
Visit PanAmFest website for more information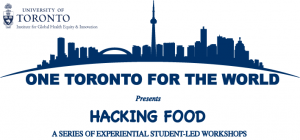 One Toronto for the World presented Hacking Food, a series of student-led experiential workshops on Feb 26 and 27.
What if college and university students, aged 19 to 29 years, living in the Greater Toronto Area, could get together over a weekend, to lead the creation of social ventures and businesses aimed at eradicating hunger, erasing food deserts and promoting cities able to feed themselves?
What if such group could transform Toronto into the first city in the world where everyone could access healthy, delicious and affordable food, within walking distance, 365 days a year?
What if these student-led ventures could create new jobs, while scaling up and spreading to other cities in Ontario, Canada and beyond, helping promote food security, worldwide?
These are the questions that guided two highly interactive and experiential events, in Toronto, under the premise of One Toronto For The World, a radically open collaborative initiative led by the Institute, to harness the power of partnerships and the diversity of the city, to tackle the most pressing challenges of our time, through public engagement and promotion of social ventures.
The Hacking Food event-series brought together students aged 19 to 29 years from the GTA to explore food security. The workshops were conducted in collaboration with community partners FoodShare and Evergreen Brickworks, and enabled the promotion of four fundable ideas by students that could become successful social enterprises based in Toronto. These ideas are being nurtured at the Health Innovation Hub.
These events will be jointly sponsored by Ontario Centres of Excellence, Institute for Global Health Equity and Innovation & The Health Innovation Hub at the University of Toronto and community partners, FoodShare Toronto and Evergreen Brick Works.
Enquiries: ajadad@ighei.org 
Banner photo by Rina Pitucci via Flickr.