Vision – what will the world become because we exist
A world in which every person and community – regardless of gender, age, sexuality, race, political views, socio-economic status, religious beliefs, cultural background or geographic location – can have the same opportunities to live a long and healthy life, as part of a sustainable planet.
Mission – what we aspire to be
IGHEI leverages the strength and expertise of its members and partners to find and implement sustainable community-driven social innovations.
We use existing knowledge and other resources that are available in abundance, in novel ways, to improve health and redress inequities.
We harness the wisdom and expertise of our collective "braintrust" to build the collective capacity that is needed to imagine and create a healthier, fairer and more sustainable world, together.
We envision serving as a model for non-hierarchical, multi-disciplinary, multi-sectoral, multi-directional collaborations.
Values
Audacity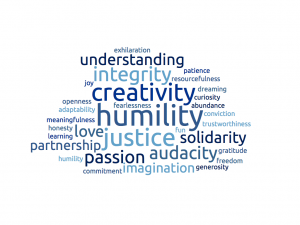 Creativity
Humility
Imagination
Integrity
Social Justice
Love
Passion
Solidarity
Understanding