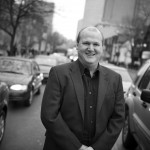 Faculty Member
Greg Evans
Research Interests
My research examines the source and composition of airborne particles, a key pollutant contributing to episodes of poor air quality in large cities. This research utilizes a combination of advanced instrumentation and modeling to understanding spatial and temporal trends in the concentration, composition and origins of these particles. The goal is to make key connections between emissions of pollutants, the quality and composition of urban air, and the impact of aerosols on human health and the environment. Focus areas include the exposure of urban populations to traffic related air pollutants, development and application of high time resolution instruments for field studies, and the use of receptor modeling for sources identification and characterization.
Most of my research is executed through the Southern Ontario Centre for Atmospheric Aerosol Research (SOCAAR). SOCAAR is an interdisciplinary centre for the study of air quality, with a focus on how aerosols impact human health and the environment. SOCAAR brings together medical personnel, atmospheric chemists and environmental engineers, and promotes collaborative research through access to state-of-the-art facilities and partnerships with government and industry.
As co-director of "Leaders of Tomorrow", I am also interested in enhancing the positive impact of engineers on society by making leadership development an integral part of an engineering education. Current education research includes a study of teaching team effectiveness in large classrooms.
Education & Training History
Ph.D., Chemical Engineering, University of Toronto, 1988
M.A.Sc., Chemical Engineering, University of Toronto, 1984
B.A.Sc. (Honours), Chemical Engineering, University of Toronto, 1982
Primary Teaching Responsibilities
CHE 230 – Environmental Chemistry
CHE 2011 –Chemical Engineering Seminars
CHE 308 – Chemical Processes for Energy Generat6ion and Storage
Professional Summary & Appointments
2011-present Associate Director Institute for Leadership Education in Engineering 2009-present Cross Appointed to Dalla Lana School of Public Health 2008-present: Affiliated Scientist Keenan Research Centre, Li Ka Shing Knowledge Institute, St Michael's Hospital 2005-present: Director, Southern Ontario Centre for Atmospheric Aerosol Research 2006-present: Co-Director, "Leaders of Tomorrow" Engineering Leadership Development Program. 2005-2007: Vice Dean, Undergraduate, Faculty of Applied Science and Engineering, University of Toronto 2005 Jan-Jul: Acting Vice Dean, Undergraduate, Faculty of Applied Science and Engineering, University of Toronto 2003-2005, Chair First Year, Faculty of Applied Science and Engineering, University of Toronto 2000-present, Professor, Department of Chemical Engineering and Applied Chemistry, University of Toronto 1995-2000, Associate Professor, Department of Chemical Engineering and Applied Chemistry, University of Toronto 1994-1995, Assistant Professor, Department of Chemical Engineering and Applied Chemistry, University of Toronto 1990-1994, Assistant Professor, NSERC/Nuclear Industry Industrial Research Chair, Junior Chair Holder, Department of Chemical Engineering and Applied Chemistry, University of Toronto
Honours & Awards
Joan E. Foley Student Quality of Student Experience Award, 2008

The Bill Burgess Teacher of the Year Award (Chemical Engineering) 2009

The Ontario Professional Engineers Award Engineering Medal- Research and Development 2009

2010 American Society for Engineering Education St. Lawrence Section Outstanding Teaching Award

2010 Engineers Canada Medal for Distinction in Engineering Education
Representative Publications
Simpson, A. E.; Evans, G.J.; Reeve, D.W. "A Summer Leadership Development Program for Chemical Engineering Students" J. Leadership Education 11(1) 222-232 (2012)
Rehbein P.J. G., C-H.Jeong, M.L. McGuire, and G. J. Evans "Strategies to Enhance the Interpretation of Single Particle Ambient Aerosol Data" Aerosol Sci. Technol. 46(5) 584-595 (2012) doi: 10.1080/02786826.2011.650334
Sabaliauskas K, C-H. Jeong, X. Yao, Y-S. Jun, P. Jadidian and G.J. Evans "Five-Year Roadside Measurements of Ultrafine Particles in a Major Canadian City" Atmos. Environ 49 245-256, (2012) doi:10.1016/j.atmosenv.2011.11.052.
Stroud C.A., M. D. Moran, P. A. Makar, S. Gong, W. Gong, J. Zhang, J. G. Slowik, J. P. D. Abbatt, G. Lu, J. R. Brook, C. Mihele, Q. Li, D. Sills, K. B. Strawbridge, M. L. McGuire, and G. J. Evans "Evaluation of chemical transport model predictions of primary organic aerosol for air masses classified by particle-component-based factor analysis" Atmos. Chem. Phys 12, 8297-8321 5939–6018, (2012) doi:10.5194/acpd-12-8297-2012
Amatullah H., M.L. North, N. Rastogi, B. Urch, F. S. Silverman, G. J. Evans, J. A. Scott "Comparative Cardiopulmonary Effects of Size-Fractionated Airborne Particulate Matter"Inhalation Toxicology 24(3) 161-171 (2012) doi: 10.3109/08958378.2011.650235
Sabaliauskas K. , G.J. Evans and C-H. Jeong "Source Identification of Traffic-Related Ultrafine Particles Data Mining Contest" Proceedings of the International Neural Network Society Winter Conference (INNS-WC2012) Procedia Computer Science 13, 99–107 (2012) http://doi 10.1016/j.procs.2012.09.118
Knox A, N. Mykhaylova, G. J. Evans, C. J. Lee, B. Karney, and J.R. Brook , "Emerging Directions for Air Pollution Monitoring and Research in Service of Sustainability" In Press Science of the Total Environment (Oct 2012) http://dx.doi.org/10.1016/j.scitotenv.2012.07.096