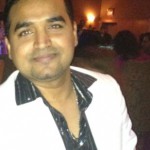 Faculty Member
Jayadeep Patra PhD
Email Address(es)

Office Phone

416 864 6060 Ext 77569

Office Address

Room 686-15, 209 Victoria St., 6th Floor Centre for Global Health Research, St Michael hospital Toronto, ON M5B 1T8

Division(s)/Institute(s)

Position

Assistant Professor

SGS Status

Associate Member

Appointment Status

Status Only
Research Interests
Global public health
Global burden of disease (GBD) due to alcohol
Economic costs of chronic diseases
Substance abuse and treatment
Determinants, harms and costs of substance use
Public health
Global health research methods
Research Methodology
Systematic Review and Meta-analysis
Education & Training History
I am an epidemiologist by training and have been working in the field of alcohol for last 10 years. Prior to joining CGHR at St Michael Hospital for my post-doctoral, I worked as a Research Scientist at the Centre for Addiction and Mental Health, Toronto where I was closely involved in various projects with Dr. Jurgen Rehm, including WHO funded the global burden of diseases (GBD) and injuries due to alcohol. I have also worked as a methodological expert in second Canadian cost study of substance abuse where my role was to do epidemiological as well as economic analysis of alcohol, tobacco and illicit drugs. Besides, I also did major analysis in avoidable cost study due to alcohol in Canada where we looked at the impact of several interventions, including pricing and taxation, on alcohol cessations. All above studies have engendered several of my publications in high impact journals.
Primary Teaching Responsibilities
Research methodology
Systematic review
Meta-analysis
Professional Summary & Appointments
2012 – Cont. PDF at St Michael's Hospital
2010 – Cont. Asst. Professor at DLSPH
2007-2012 Research Scientist at CAMH
Honours & Awards
2001 – 2005 University of Toronto Doctoral Fellowship
2003 – 2005 Graduate Teaching Fellowship, University of Toronto
1999 – 2001 International Recruitment Award, University of Toronto
2001 – 2002 Dr. John Robert Grant, University of Toronto
2000 – 2001 Dean's Graduate Bursary, University of Toronto
Current Research Projects
As an epidemiologist at the Centre for Global Health Research, my research is focused on Tuberculosis mortality in Million Death Study, alcohol and smoking as risk factors for several mortality and injuries, identification of risk factors for childhood mortality and impact of policy changes on child health and development.
Representative Publications
Selected Peer-reviewed Publications
Patra J, Giesbrecht N, Rehm J, Berkmuradov D, Popova S. Are alcohol prices and taxes an evidence based approach to reducing the damage and promoting public health and safety? A systematic Review. Contemporary Drug Problems, 2012; 39(1): 7-46.
Shield K, Taylor B, Kehoe T, Patra J, Rehm J. Mortality and potential years of life lost attributable to alcohol consumption in Canada in 2005. BMC Public Health, 2012; 12:91.
Schwappach D, Popova S, Mohapatra S, Patra J, Godhino, A., Rehm, J. (2011). Strategies for Evaluating the Economic Value of Drugs in Alcohol Dependence Treatment. Drug and Alcohol Dependence. 2012; 122(3): 165-173.
Parry C, Patra J, Rehm J. Alcohol consumption and non-communicable diseases: epidemiology and policy implications. Addiction, 2011; 106 (10): 1718-1724.
Rehm J, Patra J, Gnam W, SarnocinskaHart A, Popova S. Avoidable cost of alcohol abuse in Canada. European Addiction Research, 2011; 17, 72-79.
Patra J, Taylor B, Irving H, Mohapatra S, Baliunas D, Roerecke M, Rehm J. Alcohol consumption and the risk of morbidity and mortality for different stroke types – A systematic review and meta-analysis. BMC Public Health 2010, 10:258.
Rehm J, Baliunas D, Borges GLG, Graham K, Irving HM, Kehoe T, Parry CD, Patra J, Popova S, Poznyak V, Roerecke M, Room R, Samokhvalov AV, Taylor B. The relation between different dimensions of alcohol consumption and burden of disease – an overview. Addiction, 2010; 105(5). 817-843.
Popova S, Giesbrecht N, Bekmuradov D, Patra J. Hours and days of sale and density of alcohol outlets: impacts on alcohol consumption and damage: a systematic review. Alcohol and Alcoholism, 2009; 44(5): 500-516.
Rehm J, Mathers C, Popova S, Thavorncharoensap M, Teerawattananon Y, Patra J. Global burden of disease and injury and economic cost attributable to alcohol use and alcohol-use disorders. Series: Alcohol and Global Health. Lancet, 2009; 373 (9682): 2223–33.
Patra J, Rehm J, Popova S. Avoidable Alcohol-attributable Criminality and its Costs due to Selected Interventions in Canada. International Journal of Drug Policy, 2011; 22 (2): 109-119.
Patra J, Taylor B, Rehm J. Deaths associated with high-volume drinking of alcohol among adults in Canada in 2002: a need for primary care intervention? Contemporary Drug Problems, 2009; 36(1/2): 283-301.
For all publications click here
http://www.ncbi.nlm.nih.gov/pubmed?term=%22Patra%20J%22[Author]OR%2019087478[uid]%20OR%2017572809[uid]