Alumni Member
Julie Foisy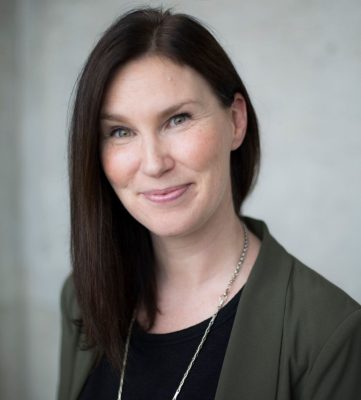 Julie graduated with an MPH in epidemiology in 2009, and served as the President of the Public Health Alumni Association (PHAA) from 2017-2019. She is also a 2019 Arbor Award recipient. She shared her thoughts on the award.
Congratulations on winning the 2019 Arbor Award! How do you feel?
I'm thrilled. I feel like I've won the lottery. U of T set me on my path to success, and I give back because, to me, there isn't an alternative. When I was working towards the MPH degree, student colleagues, faculty, and alumni—they all supported me. I want to reciprocate that support to the larger community, and volunteering is just one way I can do it.
Tell us about the contributions you made to DLSPH as an alumnus
I can't talk about my relationship with DLSPH as an alum, without first sharing my experience as a staff member at DLSPH. I had what I view as the "dream job" at DLSPH for several years—supporting both MPH students in their first practicum search, oftentimes their first foray into the field of public health, and also the alumni association, watching those same students transform into public health professionals and contribute to the field in their own right. Several years later, after I had moved on from my role at DLSPH, I was approached to lead the Public Health Alumni Association and I knew it was the perfect place for me to give back. I was already so familiar with a large portion of the alumni base and knew I could mobilize them to get our objectives met.
Additionally, I have been a mentor in the DLSPH/PHAA Mentorship program and there isn't another more rewarding mentorship program around. It keeps you connected to current events and thinking in the field, it keeps you connected to other alumni mentors (which is a fantastic networking opportunity!) and, I would argue, it keeps you young!
Why did you give back?
Volunteering creates a better, stronger, healthier community, and I give back to DLSPH to contribute to that community. The Dalla Lana School of Public Health ranked 7th in the world according to the Global Ranking of Academic Subjects (Shanghai Ranking) and I know it is because we have strong and dedicated faculty, passionate students, and impactful alumni. I'm proud of my affiliation with DLSPH, and the amazing work the faculty, students and alumni contribute to, in Toronto and across the globe, and I give back to stay connected.
What would you say to an alumnus of DLSPH? How and why should they give back?
I speak with alumni on a regular basis and I say it over and over—join the mentorship program, come to PHAA events, volunteer on the PHAA Board. In the Mentorship program, the students will teach you as much, or more, than what you can teach them. PHAA events profile cutting edge topics and offer the opportunity to connect with past colleagues and create stronger and larger networks—all benefiting public health. Volunteer on the PHAA Board or committees and have the opportunity to work with star alumni doing fascinating work across Canada.
Public health is such a diverse field that just because you don't end up in a "typical" public health position, doesn't mean you don't fit in with the PHAA. We value all alumni, regardless of where you end up or what you do, and we have tried to capture that with our #weareDLSPHAlumni hashtag on twitter and LinkedIn. Take a peek at what alumni like you are up to!