Alumni Member
Sue Mah
2017 Dietitian of the Year (Dietitians of Canada Business & Industry Network)
President, Nutrition Solutions Inc.
Co-Founder, Nutrition for NON-Nutritionists
Co-Founder, Media Training Boot Camp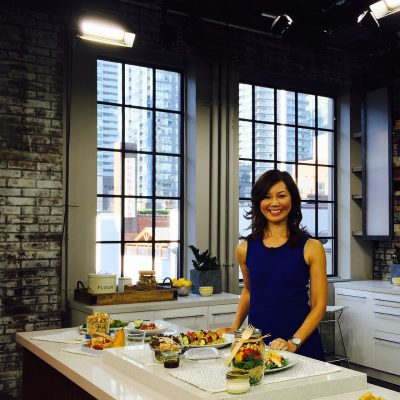 Describe your career path, including any professional experience before your graduate studies at DLSPH, using the following sectors:
I graduated from the MHSc Community Nutrition graduate program in 1991. Upon graduation, my first job was as a Public Health Nutritionist for the Peel Public Health Department, where my portfolio included food insecurity, National Nutrition Month campaigns, and the Community Food Advisor volunteer program. At the time, I was also an internationally certified fitness instructor. In addition to the day job and teaching fitness 13 classes a week, I started a small consulting business teaching sports nutrition workshops on the weekends.
My career turning point happened one summer day in 1996 when I received a phone call from Hal Johnson, fitness icon and Founder of Body Break. He invited me to be the sports dietitian on his new national TV show. I had appeared in a few community TV broadcasts, but nothing as big as this. I jumped at the opportunity and LOVED it! From that, I quickly became recognized as a leading media dietitian in Canada. Three years later, I quit my day job at the health department to focus on my communications consulting business full time. Honestly, it was the scariest decision I had ever made, but I haven't looked back.
Fast forward to today and I now run three consulting businesses:
Nutrition Solutions Inc. – a creative nutrition communications consulting agency;
Nutrition for NON-Nutritionists – a corporate nutrition training and nutrition marketing agency; and
Media Training Boot Camp – a media training group.
What additional degrees or training do you have?
I've been professionally media trained and also have my PHEc. designation.
How did you become interested in your field?
My dad is a Chinese chef and my grandfather was the first medical acupuncturist in Toronto. So I grew up in an environment that celebrated wholesome food, wellness and health. My specific interest in nutrition actually started when I was a young athlete in middle school. I was fascinated by sports nutrition and how food could enhance my performance.
Tell us about any interesting projects you are working on.
I've had the opportunity to work on many exciting projects, such as the launch of innovative new food products, appearing on 10 TV shows and 12 TV commercials, writing a monthly nutrition column for a national magazine, and developing educational resources for Health Canada and Dietitians of Canada.
Currently, I appear monthly on CTV Your Morning (a national morning news show) sharing evidence-based nutrition information and advice. I am also the go-to dietitian expert for CBC News and a guest dietitian on The Goods TV show. With growing nutrition misinformation by celebrities and pseudo nutrition experts, I believe that it's critical for dietitians and nutrition professionals to build a strong voice in the media. I offer hands-on media training and media coaching to dietitians, dietetic interns, nutrition grad students and other health professionals across Canada. I'm honoured to be named the 2017 Dietitian of the Year by the Dietitians of Canada, Business and Industry Network.
What do you enjoy most about your current career position?
I most enjoy developing creative communications and sharing nutrition information in a way that is "edutaining" – educational and entertaining. The variety of clients and projects always keeps my work interesting and exciting. As a consultant, the flexible work hours are another bonus and have definitely helped me maintain a sense of work-life harmony.
In what ways has your experience at the School had an impact on your career and who you are today?
The MHSc program was an incredible educational program, providing a solid foundation in community nutrition, public health, health promotion. As a direct result of the MHSc training, I was fortunate to secure a job as a Public Health Nutritionist, which allowed me to build my skills as a nutrition educator and writer. I developed a passion for creative communications which inspired me to start my consulting business.
How did your experiences at the School help you to overcome obstacles you've faced as a public health professional?
Nutrition misinformation abounds in today's media and social media. The MHSc program helped to build my critical analysis skills, enabling me to review and critique research results and interpret them in an easy-to-understand manner for the everyday consumer.
What advice would you give to younger alumni or current students who aspire to follow a similar career path?
Building a successful consulting business takes time. Here are my three Ps for success – possibility, partnerships and passion. Think outside the box, be open-minded to both traditional and non-traditional possibilities and opportunities in your field. Partner with your colleagues and multidisciplinary professionals to find your niche and create a unique brand. Follow a path that excites you and ignites your passion. It may take a few tries or jobs before you figure out what exactly is your passion. Be patient. If you are passionate about what you do, it will never feel like work.
What would you say to a prospective student who is considering the School?
The DLSPH offers various specializations within public health. My experience with the graduate nutrition program was a wonderful opportunity to learn from world-renowned nutrition researchers and connect with like-minded professionals in a variety of health disciplines. The program encourages critical thinking, collaboration and hands-on work experience which are all essential tools for career success.