Alumni Member
Kevin Zhang
Occupational Hygienist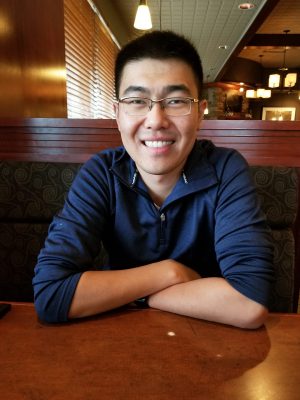 When did you graduate from the Dalla Lana School of Public Health?
June 2015
What additional degrees or training do you have?
My undergraduate was H. BSc with University of Toronto, my majors were Physiology and Criminology.
How did you become interested in your field?
My grandparents worked in public health and occupational medicine. I often went to their workplace after school when I was young and their colleagues enjoyed educating me on public health topics. My grandfather also enjoyed talking about preventative medicine during family dinner.
During my undergraduate studies, I attended the DLSPH open house and came across the occupational and environmental health stream and thought it was very interesting. It also did have some linkage to what my grandparents did. I was also interested in the combination of physiology/toxicology of the program and the engineering aspects of it.
Tell us about any interesting projects you are working on.
Currently I am working with our emergency services team to establish an Automated External Defibrillator (AED) program for the work site. We built a business case to obtain additional AEDs to supplement existing ones. We are trying to establish a full standard with roles and responsibilities for different business units as we would like business units own health and safety which would include AEDs.
I am also working with senior leadership to improve accountabilities of our personal gas monitors at the work site. We have already established a baseline number of monitors needed to ensure the health and safety of workers are not compromised. The next step will be negotiate with vendors and then ensure accountability system are established so gas monitors can be tracked. The system will also allow us to identify potential gas leaks at work sites.
What do you enjoy most about your current career position?
The diversity of scope. Although my key position is occupational hygienist, which is under the health and safety umbrella that mainly deals with prevention of health related occupational hazards. I am also part of the company's Occupational Health and Wellness team.
My job scope has often been expanded. For instance, I also play a governance role for the medical clinic on site, often working with the nurses and medical team to coordinate health promotion campaigns. I also work often with the fire fighters in drills and responses to HAZMAT scenarios. Also, as part of the larger health and safety team, I may need to step in to cover safety related meetings and investigations. Overall, the diversity of scope makes the job interesting and engaging from day to day routines.
In what ways has your experience at the School had an impact on your career and who you are today?
The School material and more importantly the practical field trips has definitely prepared me for my current career. It is very useful when I run into similar situations as the practical field trips that I can go back to my school notes and reports and see what we did in school under the guidance of professors.
How did your experiences at the School help you to overcome obstacles you've faced as a public health professional?
With all the course work, projects, and exams, the school four to six consistent projects every couple of weeks. The ability to prioritize different requests definitely helps in accomplishing all the projects.
In addition, the School also helped prepare me on how to approach business units when there is push back on a specific recommendation. The different field visits and classroom scenarios often involved hesitant professors who are acting in the interest of the business units in order to challenge us to come up with different and innovative ways to convince them that our recommendations are valid and should be carried out.
What advice would you give to younger alumni or current students who aspire to follow a similar career path?
Know when to take a stand and when to take a step back. There will be times when business units push back on you because you are new to the field and do not have a lot of experience. If they challenge you and you do not know the answers, let them know and take a step back, but let them know you will research and get back to them. If you do not know something or not confident in your answer, it is not a bad move to step back and get back to them. When you do get back to them with the right answer with good support information, they will respect you more than if you provide them with a quick answer and have to back peddle.
Sometimes you will also need to take a stand, this often involves scenarios where business units do not think your recommendation is valid as they do not perceive the risk is there. If this comes down to an ethical issue, you may need to take a stand on your recommendations. Sometimes, newer workers want to fit in, and give in. This can be problematic as we, as health and safety professionals, are there as a check in system for the business units, if we give in to what business units want even though it is wrong just to please them, it would be a slippery slope for the overall health and safety culture in the company. If you know you are right and have the information to back it up, you should take a stand.
What would you say to a prospective student who is considering the School?
DLSPH is a great School regardless of the specific program stream you elect. You will meet a variety of people from the different streams and make great network connections. Although all the streams within the program has its own specific objectives and outcomes are area specific professionals, they are all interconnected at the end. Occupational and Environmental Health professionals will rely on Epidemiologists when they are looking at past studies on occupational diseases and exposure limits for instance. So the interconnection between the programs at the School will help a lot in professional networking.
Also, public health is becoming a focus for the general public in recent years. The focus will likely increase in the next few decades as the public gains knowledge regarding what encompasses public health and the different information public health professionals can provide to improve population health. It would be a great idea to enter this field and set yourself up for a rewarding and engage career ahead.