Remembering DLSPH alumnus Roger Nicolaï
August 31/2015
Dr. Roger Nicolaï, a graduate of the University of Toronto's School of Hygiene — the Dalla Lana School of Public Health's predecessor — passed away on August 25, 2015 at his home in Corsica, France.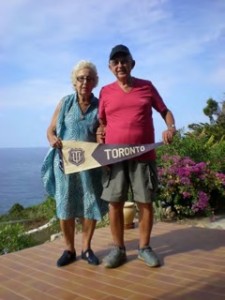 "My grandfather was, I believe, one of the oldest DLSPH alumni alive in Western Europe and always eager to read the U of T magazine and DLSPH newsletter from his home in France," said Dr. Nicolaï's grandson, Laurent Nicolaï.
Dr. Nicolaï's public health career is an interesting one. Before WWII, he attended Marseille University's Faculty of Medicine, which was connected to the University of Toronto at the time, and spent one year in Toronto before graduating with a Diploma in Public Health in 1952.
Dr. Nicolaï met his wife, Eliane, at Marseille's Faculty of Medicine where she was studying also, and they travelled to Toronto together in the early 1950s.
"Both my grandparents kept wonderful and warm memories of their experience at the U of T and in Canada in the early fifties, discovering a new continent and country, especially after the Second World War that crippled so much the European continent," recalls Laurent.
After graduation, Dr. Nicolaï joined the French Government's Ministry of Public Health in the Division of Radiation Protection as a head inspector. He later joined the Commissariat à l'Energie Atomique (CEA) — France's nuclear governmental agency — serving as the French nuclear study's head medic for 25 years. Before retiring in 1989, Dr. Nicolaï was a CEA senior manager and the general administrator's medical counsellor.
Dr. Roger Nicolaï will be deeply missed and is survived by his wife Eliane Nicolaï, his daughter, Laetitia Nicolaï, and his grandson, Laurent Nicolaï who followed his grandfather's career path and works as an emergency management specialist for the Canadian Nuclear Safety Commission (CNSC) in Ottawa.
With notes from a letter from Laurent Nicolaï.
Photo: Eliane and Roger Nicolaï at their home in Corsica, France.