Setting the Racial Health Equity Agenda: Research, Reform and Advocate
March 8/2016
DLPSH Student Blog
By: Navita Singh, Anjum Sultana, Meena Bhardwaj & Eden Hagos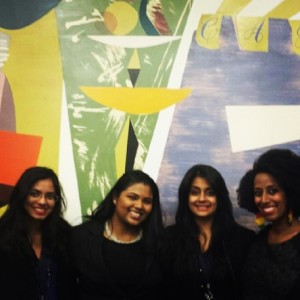 March 21, 2016 is the International Day to Eliminate Racial Discrimination, as proclaimed by the United Nations General Assembly in 1966. The same Assembly named the period 2015-2024 as the International Decade for People of African Descent, with a focus on recognition, justice and development.
Fifty years later this day is still of great relevance, but the grand vision to eradicate racism is yet to be adequately realised.
One of the central values of public health has been its unwavering commitment to social justice and equity. As public health students and future professionals, we believe we have power to influence and counteract the impact of racism on health.
Racism has long been acknowledged as a health issue. In 2001, the World Health Organization stated: "Many health disparities are rooted in fundamental social structural inequalities, which are inextricably related to racism and other forms of discrimination in society."
Racism and racial discrimination are public health issues because the experience is closely linked to social determinants of health such as housing, education and employment. A recent example of racism as a health issue is currently playing out in Flint, Michigan in the form of environmental racism.
Given this and many other glaring examples, combatting racism seems like a Herculean task and we have a long way to go. How do we get there? A commentary entitled #BlackLivesMatter — A Challenge to the Medical and Public Health Communities, in the New England Journal of Medicine by Dr. Mary Bassett, the New York City Health Commissioner, outlines three specific ways we can tackle racism: critical research, internal reform and public advocacy.
One local example of critical research to understand the experience of racialized people is a report by Drs. Billie Allan and Janet Smylie, Associate Professor of Epidemiology and Social & Behavioural Health Sciences, who explore the role of racism in the health and well-being of Indigenous peoples in their report, First Peoples, Second Class Treatment.
The report provides an overview of the historical and contemporary contexts of racism which have historically, and continue to, negatively shape the life choices and chances of Indigenous people in this country.
This local critical research is complimented by internal reform in Ontario. On February 16, 2016, Premier Kathleen Wynne announced the creation of an Anti-Racism Directorate in the province. However, as a recent Toronto Star article indicated, it is only a first step forward to eradicating racism.
There are more examples of internal reform here at U of T that address the need for diversity and cultural competence in the next generation of healthcare providers. Recently, the Faculty of Medicine appointed Dr. Lisa Robinson, as the inaugural Chief Diversity Officer and revised its diversity statement.
At the Dalla Lana School of Public Health, a new course taught by Dr. Ananya Banerjee sees culture as a facilitator to health, not a barrier. The Ethnicity, Culture and Health Promotion course seeks to prepare students to understand the complexity of conducting health promotion interventions in diverse racial and ethnocultural communities, in a way that is culturally sensitive, appropriate and competent.
Finally, public advocacy is fundamentally related to internal reform. The Ontario Anti-Racism Directorate represents the success of relentless advocacy by many community organizations and racialized people across the province.
One issue that has been in the forefront due to tireless organizing by groups such as #BlackLivesMatter – Toronto and Black Liberation Collective – Canada, has been systemic anti-black racism, specifically in our policing institutions and educational systems.
These advocacy initiatives are starting to see results. After meeting with the Black Liberation Collective – the University of Toronto agreed to collect race-based data of its students, staff and faculty. The hope is that by measuring the state of diversity in access to education, interventions can start to be established to address lack of representation and equity.
Through critical research, internal reform and public advocacy, our hope is that racialized people will stand together in solidarity. The struggle of racialized people is interconnected. It is important that we show up for others' struggles as much as we show up for our own. There is a collective battle to be waged against racism. This does not mean that we consolidate the struggles of diverse communities and paint the issue with a broad stroke. Instead, it means learning how to be allies as we are part of a collective effort to raise the profile of issues that affect communities outside of our own.
As current and future public health leaders, let's start to work upstream to counteract racial discrimination in all its forms so as to achieve racial health equity here in Toronto and across Canada.