Six public health and health services students receive Gordon Cressy Award
April 22/2016
Three Dalla Lana School of Public Health and three Institute of Health Policy, Management and Evaluation students received a Gordon Cressy Student Leadership Award in recognition of their outstanding volunteer contributions to the University of Toronto community on April 20, 2016.
This year's recipients include: Shannon Brent (MPH Epidemiology), Melissa Gaskas (MHI Health Informatics), Sara Hennessy (MHI Health Informatics), Abtin Parnia (MPH Epidemiology), Alexandra Peckham (PhD Health Services Research) and Navita Singh (MPH Health Promotion).
"I was extremely touched to have been nominated for this award. It means so much to be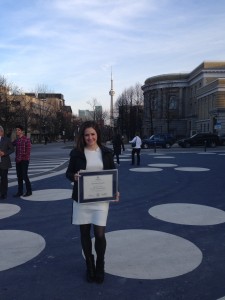 recognized for my ongoing commitment to improve student life," said Peckham, who served as President of the IHPME-GSU Curriculum Committee from 2012-2013 and describes herself as an energetic contributor.
Award criteria include volunteer service, community building and quality of life improvement. The Award was established in 1994 by the University of Toronto Alumni Association and named after Gordon Cressy, U of T's former vice-president of development and university relations who had a strong commitment to higher education, fundraising and community service.
"Important aspects of my education have been the discussions and insights gained through participating in many student and community organizations," said Parnia, who coordinated the REINVENT conference and was an active member of the Ebola Working Group. "For me, this award recognizes the importance of these discussions."
The award ceremony provides a good opportunity for students to reflect on why they chose graduate school and ask about their plans after graduation. Peckham intends to remain committed to community engagement and supporting efforts for positive system change.
"I am starting a post-doctoral fellowship where I will be leading work on models that extend beyond traditional avenues of community-based care and aim to develop broader informal support networks as a means to support our increasingly complex populations."
Parnia, who plans to continue in the field of social epidemiology through research, offers the following advice:
"DLSPH provided me with environment to learn and challenge conventional understandings of public health. My advice to future students would be to use the school's resources to hone their critical skills and get involved in the campaigns and community groups to complement their education."
Top photo courtesy of Alexandra Peckham.