Arctic scholar focuses on systems approaches to wellness in Arctic communities
October 25/2016
From access to health services to the effects of global warming, the Arctic region is influenced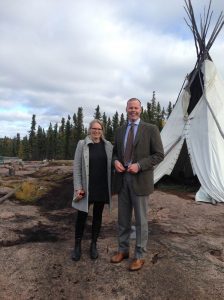 by profound political, systemic and environmental changes.
That's why the Fulbright Arctic Initiative was created. It's a research program including scholars from the Arctic Council's eight member countries — Canada, Denmark, Finland, Iceland, Norway, Russia, Sweden, and the United States — to study and assess the changing Arctic region. The initiative focuses on energy, water, health, and infrastructure issues and is sponsored by the governments of Canada, United States and Finland.
Susan Chatwood is one of 17 Fulbright Arctic Initiative scholars, all of whom are participating in Fulbright Arctic Week in Washington, D.C. from October 24 to 28, 2016, which will foster discussion and debate on system-wide approaches to wellness in Arctic communities.
"This week is important because it's a unique opportunity for us Arctic scientists to learn new approaches to multidisciplinary collaboration and make policy recommendations that address pressing and interrelated challenges in the Arctic," said Chatwood, an Assistant Professor in the Dalla Lana School of Public Health.
Having spent most of her career in remote and northern communities, Chatwood is using her broad experience in clinical, public health and research settings to engage Arctic researchers, policy makers, indigenous leaders and youth, and government officials in holistic approaches that improve community wellness in the circumpolar region.
"The Fulbright Health and Infrastructure Group brought together expertise from engineering, urban planning, environmental science and public health to develop a more holistic and region-specific model to support multidisciplinary studies in Arctic health and well-being," said Chatwood, who is also the Executive and Scientific Director of the Institute for Circumpolar Health Research in Yellowknife, Northwest Territories.
Earlier this year, Chatwood worked with Dartmouth College Environmental Science Professor Ross Virginia on a consensus workshop that brought together indigenous leaders, researchers, youth and policy makers to identify the key physical, environmental, social, and economic determinants of community health and wellness in Arctic regions.
"We need to address determinants of community wellness that promote cultural continuity, improve access to training and education, address trauma, improve infrastructure and provide ongoing opportunities for multi-sector collaboration to address gaps between sectors, including infrastructure, environmental health, education, arts, and public health," said Chatwood.
The workshop infused indigenous knowledge sharing through storytelling and a talking circle, which helped to promote holistic perspectives and more in-depth study of determinants of community wellness in the Arctic.
Chatwood will be participating in the Fulbright Health and Infrastructure Group panel discussion on October 27, which will be available via live stream. Click here to watch.
Click here for photos from Fulbright Arctic Week.
Click here for a social media snapshot of  Fulbright Arctic Week.