Professor Daniel Sellen pursues new opportunity with U of T's Centre for Child Nutrition and Health
January 9/2017
The Dalla Lana School of Public Health wishes Professor Dan Sellen success as he pursues a
new opportunity with U of T's Centre for Child Nutrition and Health as Director from January 1, 2017.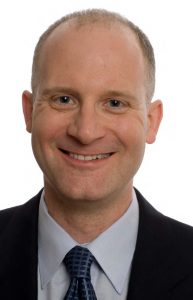 "As our first Associate Dean of Research, Dan was a guiding force for the Faculty's research office, for which he created new processes, support services and collaborative capacity to help researchers thrive," said Howard Hu, Dean of the Dalla Lana School of Public Health.
"We are deeply grateful for his thoughtful leadership and are delighted with his new appointment, given the potential for the Centre for Child Nutrition and Health, to foster major new collaborations in research and training with our School."
Professor Sellen accepted the inaugural Associate Dean of Research position with DLSPH in the fall of 2014 and made significant contributions to several milestones, including the Faculty's first strategic planning exercise, in which he co-led a process of broad and deep engagement of stakeholders inside and outside the School.
Sellen's leadership nurtured a number of initiatives that will enhance the School's research impact into the future, such as a seed grant program for the Healthier Cities and Communities Hub, an innovative partnership between the DLSPH, the Wellesley Institute and Toronto Public Health to improve the health of Torontonians and beyond. This program was co-created by academic and community partners and has also served as a model for similar project grants within the Waakebiness-Bryce Institute for Indigenous Health and the Institute for Global Health Equity and Innovation.
"The relevance, range and quality of research conducted by the large community of scholars, learners and professional research staff at the Dalla Lana School of Public Health is inspirational, and I enjoyed facilitating these transformative efforts," said Sellen, who will maintain his appointment as Professor of Global Health and Social and Behavioural Health Sciences at DLSPH and in the Departments of Nutritional Sciences and Anthropology.
In his new role as Director of the Centre for Child Nutrition and Health, Professor Sellen will work with Faculty of Medicine leadership, the departments of Nutritional Sciences, Paediatrics, and Family and Community Medicine, as well as government agencies, civil society and the private sector to develop comprehensive, society-wide solutions that protect and improve child nutrition. One key priority for Sellen and the Centre's many collaborators is to develop primary care and wider socially embedded interventions that can together ensure poor early nutrition never becomes a cause of later health inequity.
He will also continue to provide advice on maternal and child nutrition interventions internationally and lead research on programs that use new technology to protect and promote child nutrition and health in low-income countries, including Kenya and Tanzania.
"I'm excited by the many potential opportunities for enhanced collaborations between public health, health systems, and nutrition scholars through my work at the Centre, and to the possibility of the School becoming a formal partner for the Centre as we work towards shared goals of improving health for all across the life span," said Sellen.
The Dean's Office will commence a formal search for the next permanent Associate Dean of Research this month.