DLSPH and Toronto Public Health recognize World TB Day
April 27/2018
World TB Day is March 24 – the day in 1882 that Robert Koch announced he had looked down a microscope and discovered the microbiologic cause of tuberculosis (TB). Today it's an opportunity to raise awareness about the disease that sickens more than 10 million people annually and kills 1.7 million, despite being a curable illness.
Toronto Public Health's TB Program hosted their second World TB Day "flash mob" at City Hall this year, with remarks by the TB Program's Associate Medical Officer of Health Dr. Elizabeth Rea and Toronto patient advocate Gloria E.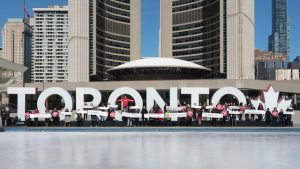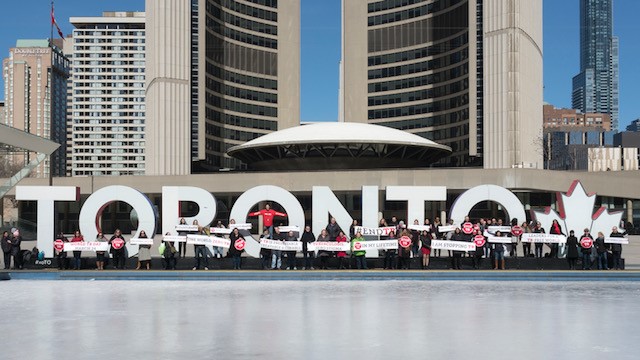 "Tuberculosis isn't just a public health issue in developing countries. Canada is a low-burden country, but about 300 people a year are diagnosed with active TB in Toronto, reflecting our links to the global epidemic," said Rea, Adjunct Professor of Clinical Public Health at DLSPH.
"Even more urgently, TB is still actively spreading in northern Indigenous Canadian communities, particularly in Nunavut, northern Quebec and Labrador, Northwest Territories and northern Manitoba," said Rea, who also participated in a talk hosted by Professor Xiaolin Wei on March 28.
Earlier that week the Canadian federal government committed to TB elimination in Inuit communities by 2030, which Rea says is a very welcome and essential step forward. However, she continues, Canada's commitment to concrete, broader national and international TB elimination goals is still not confirmed.
On a global level, the Stop TB Partnership and others estimate an annual shortfall of US$2.3 billion for TB care around the world, and US$1.2 billion for research to develop urgently needed better diagnostics and shorter, safer treatments. This global shortfall is a key reason behind the United Nations' first High Level Meeting on TB taking place September 26, 2018 – a significant milestone in the global fight to end TB. The meeting goal is for heads of state to sign accountable budget and policy commitments for TB elimination.
This year's World TB Day theme was 'Wanted: leaders for a TB-free world'. "Public health, civil society, and academics all have a role in advocating for Canadian politicians to move decisively – and accountably – to TB elimination, at home and around the world," said Rea.