DLSPH Remembers Professor Arnold Noyek (1937-​2018)
December 19/2018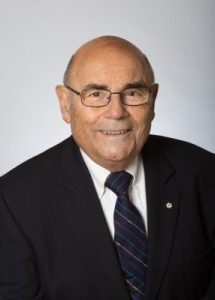 The DLSPH community mourns Professor Arnold Noyek, an internationally recognized otolaryngologist who founded innovative hearing tests for newborns, who died on December 14, 2018 at the age of 81. Noyek was diagnosed with multiple myeloma in 2011 and died at Baycrest Health Sciences with family by his side.
"Dr. Noyek was a man of great energy and optimism. He pursued health as a bridge to peace in the Middle East by tackling the challenge of hearing loss in children. He will be greatly missed," said Dr. Peter Singer, Professor of Medicine, co-founder and past director of the Joint Centre for Bioethics at DLSPH.
Dr. Noyek was a professor of Clinical Public Health at DLSPH and served as an adviser on global health education. He was also a professor of Otolaryngology and of Radiology at U of T Medicine.
He was born in Dublin, Ireland and immigrated to Canada in 1940. He attended U of T's Faculty of Medicine where he specialized in otolaryngology. After graduation, worked at the Manhattan Eye, Ear and Throat Hospital in New York City before settling at Toronto's Mount Sinai Hospital (MSH) in 1966 where he was the hospital's otolaryngologist in chief for more than 10 years.
During his time at MSH, Noyek pioneered a technique to detect deafness in babies by measuring brainwave patterns. This early screening procedure became mandatory in Ontario in 2001 and since then, more than 1 million babies have been screened.
Dr. Noyek was also an acclaimed global health leader who founded the Canada International Scientific Exchange Program (CISEPO) in 1984, a non-profit organization that builds capacity and strengthens health systems through a knowledge transfer network.
He was inducted as an Officer in the Order of Canada in July 2013 and received the Canadian Society for International Health Lifetime Achievement Award in 2005. He is also the recipient of U of T Medicine's Colin R. Woolf Award for Long Term Contributions to Continuing Education, and the prestigious Ludwik and Estelle Jus Memorial Human Rights Prize in 2009.