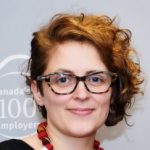 Faculty Member
Caroline Bennett-​Abuayyash MSc, PhD
Email Address(es)

Office Address

Women's College Research Institute Women's Xchange 76 Grenville Street Toronto, ON M5S 1B2

Website(s)

Division(s)/Office

Position

Assistant Professor

SGS Status

Associate Member

Appointment Status

Status Only
Research Interests
Opportunities and challenges in applying a socio-demographic lens to health care research, planning, and delivery
Embedding equity in health care quality conversations, metrics, and reports
Building organizational and system-level accountability on health equity
Evaluating interventions for reducing health inequities
Systemic discrimination and prejudice in health care
Education & Training History
PhD- Social Psychology, University of Western Ontario (2011)
MSc- Social Psychology, University of Western Ontario (2006)
BA- Political Science & Public Administration, American University of Beirut (2000)
Certificate- Disparities Leadership Program, Massachusetts General Hospital & Harvard Medical School (2015)
Other Affiliations
Research Lead, Women's Xchange, Women's College Hospital/Women's College Research Institute
Medical Advisory Board Member, National Collaborating Centre on the Determinants of Health
Representative Publications
Tuck, A., Oda, A., Hynie, M., Bennett-AbuAyyash, C., Roche, B., Agic, B., & McKenzie, K. (2019). Unmet health care needs for Syrian refugees in Canada: A follow-up study. Journal of Immigrant and Minority Health. https://doi.org/10.1007/s10903-019-00856-y
Tan-McGrory, A., Bennett-AbuAyyash, C., Gee, S., Dabney, K., Cowden, J. D., Williams, L, Rafton, S., Nettles, A. Pagura, S., Homes, L., Goleman, J., Caldwell, L., Page, J., Oceanic, P., McMullen, E., Lopera, A., Beiter, S., & Lopez, L. (2018). Identifying Disparities in Pediatrics: Sample Practices for Data Collection. BMC Pediatrics, 8. https://bmcpediatr.biomedcentral.com/track/pdf/10.1186/s12887-018-0997-y?site=bmcpediatr.biomedcentral.com
Esses, V. M., Bennett-AbuAyyash, C., & Lapshina, N. (2014). How discrimination against ethnic and religious minorities contributes to the underutilization of immigrants' skills. Policy Insights from the Behavioral and Brain Sciences, 1, 55-62.
Wray. R., Agic, B., Bennett-AbuAyyash, C., Kanee, M., Lam, R., & Mohamed, A., & Tuck, A. (2013, September). We ask because we case: The tri-hospital + TPH health equity data collection project. Toronto, ON: Health Equity Data Collection Project Committee.
Esses, V. M., Hamilton, L., Bennett-AbuAyyash, C., & Burstein, M. (2010). What is a welcoming community? Research report prepared for the Integration Branch of Citizenship and Immigration Canada.
Esses, V.M., Jackson, L.M., & Bennett-AbuAyyash, C. (2010). Intergroup competition. In J.F. Dovidio, M. Hewstone, P. Glick, & V.M. Esses (Eds.), Handbook of prejudice, stereotyping, and discrimination. Sage: London, England.