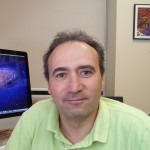 Faculty Member
Laurent Briollais PhD, Statistical Genetics
Email Address(es)

Office Phone

416-586-8863

Office Address

Lunenfeld-Tanenbaum Research Institute 60 Murray St., Rm 5-218 Toronto, ON M5T 3L9

Website(s)

Curriculum Vitae

Division(s)/Office

Position

Associate Professor

SGS Status

Full Member

Appointment Status

Status Only
Research Interests
Statistical Genetics
Robust Statistics
Multivariate Survival Analysis in Family Design
Sequential Design/Sequential Method
Application of Bayesian Graphical Models in Genetic Association Studies
Longitudinal Data Analysis in Family Design
Measurement Error Models for the Analysis of Gene-Environment Interactions
Education & Training History
1990 B.Sc. (Statistics and Economy) ENSAE, France
1994 M.Sc. (Statistical Genetics) University Paris XI, Dept. of Public Health Sciences, France
1998 Ph.D. (Statistical Genetics) University Paris XI, Dept. of Public Health Sciences, France
Primary Teaching Responsibilities
CHL 5210: Categorical Data Analysis (Instructors: Lei Sun and Laurent Briollais)
Professional Summary & Appointments
2000 to – Principal Investigator Samuel Lunenfeld Research Institute, Toronto, Canada
2000 to 2013 Assistant Professor (Status only) Dalla Lana School of Public Health, University of Toronto, Canada
2013 to – Associate Professor (Status only) Dalla Lana School of Public Health, University of Toronto, Canada
Honours & Awards
2002 Petro-Canada Young Investigator Award
2012 Student's Post-doctoral Fellowship Award (Yan Yan Wu, CIHR Stage – 2 years)
2010 Student's Post-doctoral Fellowship Award (Taraneh Abarin, MITACS – 1 year)
2006 Student's Post-doctoral Fellowship Award (Yun-Hee Choi, Canadian Breast Cancer Foundation- 2 years)
Current Research Projects
Joint analysis of SNP effects in GWAS using Bayesian graphical model
Development of multistate models for risk estimation in Lynch Syndrome families
Modeling of growth child trajectories and search for associated genetic variants and epidemiological risk factors
Development of robust statistical methods for 'omics data
Modeling of sequencing data in child brain tumors
Estimation of predictive models for prostate cancer progression based on genetic, epigenetic and proteiomic data
Representative Publications
Choi Y, Kopciuk K, Briollais L (2008) Bias and efficiency in family-based designs for estimating the risk associated with mutated genes involved in complex diseases. Hum Hered. 66:238-251.
Durrieu G, Briollais L (2009). Sequential designs for microarray experiments. Journal of the American Statistical Association 104:650-660.
Kopciuk KA, Choi YH, Parkhomenko E, Parfrey P, McLaughlin J, Green J, Briollais L. (2009) Penetrance of HNPCC-related cancers in a retrolective cohort of 12 large Newfoundland families carrying a MSH2 founder mutation: an evaluation using modified segregation models. Hered Cancer Clin Pract 7(1):16
Choi YH, Briollais L (2011) An EM Composite likelihood for multistage sampling of family data. Statistica Sinica 21: 231-253.
Sow M, Durrieu G, Briollais L, Ciret P, Massabuau JC (2011) Modeling high-frequency serial valvometry data: a kernel-regression approach. Environmental Monitoring and Assessment 182(1-4):155-70.
Dobra, A., Briollais, L., Jarnazi H, Ozcelik H, Massam H. Applications of the mode oriented stochastic search (MOSS) algorithm for discrete multi-way data to genomewide studies. In Bayesian Modeling in Bioinformatics Taylor & Francis, D. Dey, S. Ghosh and B. Mallick (eds.), 2011, Pages 63-94.
Abarin T, Wu Y, Warrington N, Lye S, Pennell C, Briollais L. (2013) The impact of breastfeeding on FTO-related BMI growth trajectories. International Journal of Epidemiology 41(6):1650-60.
Warrington NM, Wu Y, Pennell CE, Marsh JA, Beilin LJ, Palmer LJ, Lye SJ, Briollais L. (2013) Modelling BMI trajectories in children for genetic association studies. PloS One 8(1):e53897.
Choi YH, Briollais L, Parfrey P, Green J, Kopciuk K. Estimating successive cancer risk in Lynch Syndrome families using a progressive three-state model. Statistics in Medicine 2013. doi: 10.1002/sim.5938.