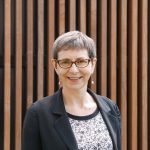 Faculty Member
Natasha Sarah Crowcroft MA(Cantab), MSc, MD(PhD), MRCP, FFPH
Email Address(es)

Division(s)/Office

Position

Professor

SGS Status

Full Member

Appointment Status

Status Only
Research Interests
Vaccination programmes and vaccine preventable diseases
Rabies
Diphtheria, Tetanus, Pertussis, meningococcal disease
Hepatitis A
Vaccination coverage
Encephalitis
Surveillance
Infectious disease epidemiology
Ethnicity and health
Dr. Natasha Crowcroft is Professor in Laboratory Medicine and Pathobiology and the Dalla Lana School of Public Health, University of Toronto, and an Adjunct Scientist at the Institute for Clinical Evaluative Sciences. She is also the inaugural Director of the University of Toronto Centre for Vaccine Preventable Diseases. Crowcroft is a physician with a PhD who trained in medicine and public health at the Universities of Cambridge and London, UK, and in field epidemiology through the European Programme for Intervention Epidemiology Training (EPIET) in Belgium. She has more than 25 years' experience in public health, including over a decade in Canada.
Dr Crowcroft was one of the founding leadership group at Public Health Ontario. She was recruited from UK in 2007 and built the Surveillance and Epidemiology Department. She became Chief of Infectious Disease in 2012 before moving to the position of Chief of Applied Immunization Research and Evaluation in 2015 and Chief Science Officer in 2019. In addition to helping to build PHO and strengthen the public health system in Ontario, Dr Crowcroft advises on immunization strategy at a national level as a past member of the National Advisory Committee on Immunization (NACI), current co-chair of the Canadian Association for Immunization Research, Evaluation and Education, and member of the Canadian Immunization Research Network.
Her research aims to maximize the health benefits of immunization. She has published over 250 scientific papers and serves as an expert for Gavi, PAHO, SEARO and WHO.