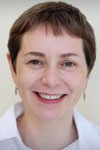 Faculty Member
Natasha Sarah Crowcroft MA(Cantab), MSc, MD(PhD), MRCP, FFPH
Email Address(es)

Office Phone

647 260 7401

Office Address

Public Health Ontario 480 University Avenue, Suite 300 Toronto, Ontario M5G 1V2

Division(s)

Position

Associate Professor

SGS Status

Full Member

Appointment Status

Status Only
Research Interests
Vaccination programmes and vaccine preventable diseases
Rabies
Diphtheria, Tetanus, Pertussis, meningococcal disease
Hepatitis A
Vaccination coverage
Encephalitis
Surveillance
Infectious disease epidemiology
Ethnicity and health
Education & Training History
1998-Dec 2005 Doctor of Medicine, (PhD equivalent) Murray Edwards (formerly New Hall) College, University of Cambridge. Thesis: Estimating the burden of Bordetella pertussis infection presenting to paediatric intensive care units and wards in London to inform vaccination policy in the United Kingdom.
Oct 1992 –June 1994 Master of Science, MSc, Department of Public Health Sciences, St Georges Hospital Medical School, University of London. Master's thesis: The social origins of infantile colic.
Oct 1981-June 1987 Medical Degree, MB BS (Medicinae Baccalaureus, Baccalaureus Chirurgiae) United Medical Schools of Guy's and St Thomas', University of London
Oct 1981-May 1984 Bachelor of Arts, BA (Cantab) Natural sciences, Part II Pathology, Murray Edwards (formerly New Hall) College, University of Cambridge, Cambridge UK.
Postgraduate, Research and Speciality Training
Oct 1995-Dec 1999 Specialist medical training in Public Health Medicine, Public Health Laboratory Service Communicable Disease Surveillance Centre, London UK
Oct 1995-Sept 1997 Training in Field Epidemiology in the European Programme for Intervention Epidemiology Training (EPIET) based at the Institute for Hygiene and Epidemiology in Brussels, Belgium
Feb 1992-Oct 1995 Specialist medical training in Public Health Medicine, South West Thames Regional Health Authority, London UK
Other Affiliations
My primary appointment is in Laboratory Medicine and Pathobiology
Primary Teaching Responsibilities
Professional Summary & Appointments
Dr. Natasha Crowcroft is Chief of Infectious Diseases at Public Health Ontario (PHO) and Associate Professor, Laboratory Medicine and Pathobiology and the Dalla Lana School of Public Health, University of Toronto, Canada. Before coming to Canada in 2007 she spent a decade as a national expert on immunization at the United Kingdom's Health Protection Agency. In October 2008 she became Director of Surveillance and Epidemiology at the newly established Public Health Ontario (PHO, the Ontario Agency for Health Protection and Promotion). In April 2012 she became Chief, Infectious Diseases at PHO. She is a member of PAHO's International Expert Committee on the documentation of the Elimination of Measles, Rubella and Congenital Rubella Syndrome, and the WHO Strategic Advisory Group of Experts Working Group on Measles and Rubella, as well as the Canadian National Advisory Committee on Immunization (NACI).
Her most significant research contributions could be characterized as epidemiological studies and methodological development designed to answer applied public health questions for decision-makers. The content area has a focus on vaccine preventable disease, and the starting point has been from inside the public health system. Outcomes include changes in policy and practice. Research funding has been for research of national and global significance, with an H index of 28 in April 2013.
Honours & Awards
Current Research Projects
The severity of pertussis in Ontario in partnership with Dr David Farrell, PHO Public Health Laboratories
Measles and travel patterns in Ontario and Quebec in partnership with Dr Kamran Khan at St Michael's hospital Biodiaspora project
The burden of Hepatitis B, a project with the Institute of Clinical Evaluative Sciences (ICES)
Immunity of Canadians and Risk of Epidemics (iCARE) pilot sero-epidemiology project
Pan-Canadian Influenza Research Network collaborator
Pertussis vaccine effectiveness in Ontario, a project with ICES
Representative Publications
Top 5 publications
Granerod J, Ambrose HE, Davies NW, Clewley JP, Walsh AL, Morgan D, Cunningham R, Zuckerman M, Mutton KJ, Solomon T, Ward KN, Lunn MP, Irani SR, Vincent A, Brown DW, Crowcroft, NS; UK Health Protection Agency (HPA) Aetiology of Encephalitis Study Group. Causes of encephalitis and differences in their clinical presentations in England: a multicentre, population-based prospective study. Lancet Infect Dis. 2010 Dec;10(12):835-44. Impact factor (2009) 13.583 Citations: 57 (on 24th August 2012). (SRA and PI)
Skowronski DM, De Serres G, Crowcroft, NS, Janjua NZ, Boulianne N, Hottes TS, Rosella LC, Dickinson JA, Gilca R, Sethi P, Ouhoummane N, Willison DJ, Rouleau I, Petric M, Fonseca K, Drews SJ, Rebbapragada A, Charest H, Hamelin ME, Boivin G, Gardy JL, Li Y, Kwindt TL, Patrick DM, Brunham RC, Canadian SAVOIR Team, Association between 2008-09 seasonal influenza vaccine and pandemic H1N1 illness during Spring-Summer 2009: four observational studies from Canada, PLoS Med. 2010 Apr 6;7(4):e1000258. Journal Impact factor (2009) 13.050. Citations: 113 (on 24th August 2012). (CO-PI)
Crowcroft, NS, Stein C, Duclos P, Birmingham M. How best to estimate the global burden of pertussis? Lancet Infect Dis 2003; (3) 413-18. Impact factor (2009) 13.583 Citations: 115 (on 24th August 2012).(SRA and PI)
Crowcroft, NS, Booy R, Harrison R, Spicer L, Britto J, Mok Q, Heath P, Murdoch I, Zambon M, George R, Miller E. Severe and unrecognised – Pertussis in UK infants. Arch Dis Child 2003; 88 802-806 Impact factor 1.787 (2005) Citations: 158 (on 24th August 2012). (SRA and PI)
Crowcroft, NS, Catchpole M. Mortality from methicillin resistant Staphylococcus aureus in England and Wales: analysis of death certificates. BMJ 2002;325:1390-1. Impact factor 9.052 (2005) Citations 63 (24th August 2012). (SRA and PI)
Recent publications (2012 – early 2013)
Lim GH, Wormsbecker AE, McGeer A, Pillai DR, Gubbay JB, Rudnick W, Low DE, Green K, Crowcroft NS, Deeks SL.Have changing pneumococcal vaccination programmes impacted disease in Ontario? Vaccine. 2013 Apr 15. doi:pii: S0264-410X(13)00426-X. 10.1016/j.vaccine.2013.04.007
Rosella LC, Wilson K, Crowcroft NS, Chu A, Upshur R, Willison D, Deeks SL, Schwartz B, Tustin J, Sider D, Goel V. Pandemic H1N1 in Canada and the use of evidence in developing public health policies–a policy analysis. Soc Sci Med. 2013 Apr;83:1-9. doi: 10.1016/j.socscimed.2013.02.009. Epub 2013 Feb 13.
Van Kerkhove MD, Hirve S, Koukounari A, Mounts AW; H1N1pdm serology working group. Estimating age-specific cumulative incidence for the 2009 influenza pandemic: a meta-analysis of A(H1N1)pdm09 serological studies from 19 countries. Influenza Other Respi Viruses. 2013 Jan 21. doi: 10.1111/irv.12074.
Hawken S, Manuel DG, Deeks SL, Kwong JC, Crowcroft NS, Wilson K. Underestimating the safety benefits of a new vaccine: the impact of acellular pertussis vaccine versus whole-cell pertussis vaccine on health services utilization. Am J Epidemiol. 2012 Dec 1;176(11):1035-42. doi: 10.1093/aje/kws167.
Crowcroft NS, Hamid JS, Deeks SL, Frank J. Human papilloma virus vaccination programs reduce health inequity in most scenarios: a simulation study. BMC Public Health. 2012 Oct 31;12:935. doi: 10.1186/1471-2458-12-935.
Chu A, Savage R, Willison D, Crowcroft NS, Rosella LC, Sider D, Garay J, Gemmill I, Winter AL, Davies RF, Johnson I. The use of syndromic surveillance for decision-making during the H1N1 pandemic: A qualitative study. BMC Public Health. 2012 Oct 30;12:929. doi: 10.1186/1471-2458-12-929.
Fairhead T, Hendren E, Tinckam K, Rose C, Sherlock CH, Shi L, Crowcroft NS, Gubbay JB, Landsberg D, Knoll G, Gill J, Kumar D. Poor seroprotection but allosensitization after adjuvanted pandemic influenza H1N1 vaccine in kidney transplant recipients. Transpl Infect Dis. 2012 Dec;14(6):575-83. doi: 10.1111/tid.12006. Epub 2012 Sep 24.
Quach S, Hamid JS, Pereira JA, Heidebrecht CL, Deeks SL, Crowcroft NS, Quan SD, Brien S, Kwong JC; Public Health Agency of Canada/Canadian Institutes of Health Research Influenza Research Network Vaccine Coverage Theme Group. Influenza vaccination coverage across ethnic groups in Canada. CMAJ. 2012 Oct 16;184(15):1673-81. doi: 10.1503/cmaj.111628. Epub 2012 Sep 10
Kwong JC,Ratnasingham S, Campitelli MA, Daneman N, Deeks SL, Manuel D, Allen VG, Bayoumi AM, Fazil A, Fisman DN, Gershon AS, Gournis E, Heathcote EJ, Jamieson FB, Jha P, Khan KM, Majowicz SE, Mazzulli T, McGeer AJ, Muller MP, Raut A, Rea E, Remis RS, Shahin R, Wright AJ, Zagorski , Crowcroft, NS . The Impact of Infection on Population Health: Results of the Ontario Burden of Infectious Diseases Study. PLoS ONE 2012; 7(9): e44103. doi:10.1371/journal.pone.0044103(CO-PI)
Dang V, Jamieson FB, Wilson S, Rawte P, Crowcroft, NS, Johnson K, Tsang RS, Deeks SL. Epidemiology of serogroup B invasive meningococcal disease in Ontario, Canada, 2000 to 2010. BMC Infect Dis. 2012 Aug 29;12(1):202. [Epub ahead of print] (CO-I)
Quach S, Pereira JA, Hamid JS, Crowe L, Heidebrecht CL, Kwong JC, Guay M, Crowcroft, NS, McGeer A, Chambers LW, Quan SD, Bettinger JA; Public Health Agency of Canada/Canadian Institutes of Health Research Influenza Research Network PCIRN Vaccine Coverage Theme Group; Canadian Healthcare Influenza Immunization Network. Measuring influenza immunization coverage among health care workers in acute care hospitals and continuing care organizations in Canada. Am J Infect Control. 2012 Aug 15. [Epub ahead of print] (CO-I)
Peci A, Winter AL, Gubbay JB, Skowronski DM, Balogun EI, De Lima C, Crowcroft, NS, Rebbapragada A. Community-acquired respiratory viruses and co-infection among patients of Ontario sentinel practices, April 2009 to February 2010. Influenza Other Respi Viruses. 2012 Aug 9. doi: 10.1111/j.1750-2659.2012.00418.x. [Epub ahead of print] (CO-I)
Crowcroft, NS, Rosella LC. The potential effect of temporary immunity as a result of bias associated with healthy users and social determinants on observations of influenza vaccine effectiveness; could unmeasured confounding explain observed links between seasonal influenza vaccine and pandemic H1N1 infection? BMC Public Health. 2012 Jun 20;12(1):458. [Epub ahead of print] (SRA)
Wilson K, Hawken S, Kwong JC, Deeks SL, Crowcroft, NS, Manuel D. Vaccine and Immunization Surveillance in Ontario (VISION) – Using linked health administrative databases to monitor vaccine safety. Vaccine. 2012 Sep 21;30(43):6115-20. Epub 2012 Jun 15 (CO-I)
Lowcock EC, Rosella LC, Foisy J, McGeer A, Crowcroft N. The Social Determinants of Health and Pandemic H1N1 2009 Influenza Severity. Am J Public Health. 2012 Aug;102(8):e51-8. Epub 2012 Jun 14. (CO-PI)
Wilson K, Hawken S, Holdt Henningsen K, Kwong JC, Deeks SL, Crowcroft NS, Law B, Manuel DG.On-time Vaccination Coverage in Premature Infants in Ontario, 2002-2009. Can J Public Health. 2012 Jul 18;103(5):e359-62.
Skowronski DM, Janjua NZ, De Serres G, Winter AL, Dickinson JA, Gardy JL, Gubbay J, Fonseca K, Charest H, Crowcroft, NS, Fradet MD, Bastien N, Li Y, Krajden M, Sabaiduc S, Petric M. A Sentinel Platform to Evaluate Influenza Vaccine Effectiveness and New Variant Circulation, Canada 2010-11 Season. Clin Infect Dis. 2012 Aug;55(3):332-42. Epub 2012 Apr 26 (CO-I)
Tighe MK, Savage R, Vrbova L, Toolan M, Whitfield Y, Varga C, Lee B, Allen V, Maki A, Walton R, Johnson C, Dhar B, Ahmed R, Crowcroft, NS, Middleton D.The epidemiology of travel-related Salmonella Enteritidis in Ontario, Canada, 2010-2011. BMC Public Health. BMC Public Health. 2012 May 18;12:310 (CO-I)
Janjua NZ, Skowronski DM, De Serres G, Dickinson J, Crowcroft, NS, Taylor M, Winter AL, Hottes TS, Fonseca K, Charest H, Drews SJ, Sabaiduc S, Bastien N, Li Y, Gardy JL, Petric M. Estimates of Influenza Vaccine Effectiveness for 2007-2008 From Canada's Sentinel Surveillance System: Cross-Protection Against Major and Minor Variants. J Infect Dis. 2012 Jun 15;205(12):1858-68. Epub 2012 Apr 9 (CO-I)
Wilson SE, Karas E, Crowcroft, NS, Bontovics E, Deeks SL. Ontario's school-based HPV immunization program: school board assent and parental consent. Can J Public Health. 2012 Jan-Feb;103(1):34-9. (CO-I)
Hota SS, Achonu C, Crowcroft, NS, Harvey BJ, Lauwers A, Gardam MA. Determining Mortality Rates Attributable to Clostridium difficile Infection. Emerg Infect Dis. 2012 Feb;18(2):305-7 (CO-PI)
Wagner KS, White JM, Lucenko I, Mercer D, Crowcroft, NS, Neal S, Efstratiou A; on behalf of the Diphtheria Surveillance Network. Diphtheria in the Postepidemic Period, Europe, 2000-2009. Emerg Infect Dis. 2012 Feb;18(2):217-225 (CO-PI)
Crowcroft, NS. What causes hepatitis A in travellers to endemic countries? Travel is necessary but not sufficient – a risk factor, not a cause. Epidemiol Infect. 2012 Feb 3:1-2 (SRA)