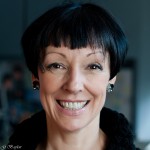 Faculty Member
France Gagnon MSc, PhD
Email Address(es)

Office Phone

416-978-0130

Office Address

Dalla Lana School of Public Health 155 College Street Toronto, ON M5T 3M7

Website(s)

Division(s)/Office

Position

Professor

SGS Status

Full Member

Appointment Status

Tenured

Admin Position

Associate Dean, Research
Research Interests
Research Area:
Genetic and epigenetic epidemiology
Quantitative trait genetics
Cardiovascular genetics and epidemiology
Research Activities:
Identifying genetic and epigenetic determinants of chronic cardiovascular diseases and risk factors through innovative study designs that integrate emerging molecular technologies and novel analytic approaches
Knowledge synthesis through systematic reviews and meta-analyses
Research training with specific emphasis on comprehensive cross- and inter-disciplinary training for genetic epidemiology and statistical genetics research
Education & Training History
Fellowship (Genetic Epidemiology), University of Washington, Seattle
PhD, Biomedical Sciences (Cellular & molecular biology), Université de Montréal, Montréal
MSc, Experimental Medicine (Cardiovascular epidemiology), Université Laval, Québec
BSc (Nursing), BA (Psychology Minor), University of Ottawa, Ottawa
Primary Teaching Responsibilities
Professional Summary & Appointments
Associate Professor (tenured), Dalla Lana School of Public Health (DLSPH)
Canada Research Chair in Genetic Epidemiology
Co-Director, CIHR STAGE (Strategic Training for Advanced Genetic Epidemiology)
Full Member School of Graduate Studies
Honours & Awards
2014, Anthony Miller Award for Excellence in Research, DLSPH
2014, President-Elect, International Genetic Epidemiology Society
2014, Graduate Teaching Award for Early Career Excellence, U of T Faculty of Medicine
2012, Canada Research Chair (Tier 2 renewal) in Genetic Epidemiology
2010, Board of Directors, International Genetic Epidemiology Society
2007, Early Researcher Award, Ontario Ministry of Research and Innovation
2006, Canada Research Chair (Tier 2) in Genetic Epidemiology
2006, New Investigator Award, Canadian Institutes of Health Research
2006, New Investigator Award, Heart and Stroke Foundation of Canada
2002, James V. Neel Young Investigator Award, International Genetic Epidemiology Society
Current Research Projects
Together with collaborators in Ottawa, Toronto, Paris and Marseille, my research group has recently launched a comprehensive epigenomic research program of hemostasis and thrombosis traits in a large ethnically homogenous sample, with the goal of identifying and characterizing clinically-relevant epigenetic determinants of venous thrombosis and better understanding its underlying molecular mechanisms. We are using multi-disciplinary multi-design approaches enriched by hypothesis-driven strategies that have evolved from comparative and regulatory genomics work. To our knowledge, this set of projects represents not only the first epigenomic investigation of venous thrombosis, but the first genome-wide array based methylation analysis of any condition ever to integrate multiple, complementary study designs.
Grants as Principal Investigator
2013-2014, CIHR Catalyst Grant: Identifying pollutant-sensitive DNA methylation marks associated with a global measure of thrombosis risk: A proof-of-concept study
2012-2017, Canada Research Chair (Tier 2, renewal) in Genetic Epidemiology
2010-2016, CIHR STIHR grant: STAGE (Strategic Training for Advanced Genetic Epidemiology): An integrated program in statistical & epidemiological training for genetics with a population health impact
​Grants as Co-Investigator
2013-2016, Dean's Strategic Fund, U of T Faculty of Engineering: Institute for Research into Exposomics Based Assessment (IREBA) (nominated PI: G. Evans)
2013-2014, Heart and Stroke Foundation of Canada Grant-in-Aid: Experimental and evolutionary dissection of regulatory variants in hemostatic disease (nominated PI: M.D. Wilson)
Representative Publications
Selected publications in the past five years; trainees under my supervision underlined
Gagnon F, Aïssi D, Carrié A, Morange PE, Trégouët DA. (2014) Robust Validation of Methylation levels association at CPT1A locus with Lipid plasma levels. Journal of Lipid Research 55(7):1189-1191.
*Dick KJ, Nelson CP, Tsaprouni L, Sandling JK, Aïssi D, Wahl S, Meduri E, Morange PE, Gagnon F, Grallert H, Waldenberger M, Peters A, Erdmann J, Hengstenberg C, Cambien F, Goodall AH, Ouwehand WH, Schunkert H, Thompson JR, Spector TD, Gieger C, Trégouët DA, Deloukas P, Samani NJ. (2014) DNA methylation and body-mass index: a genome-wide analysis. Lancet 383(9933):1990-8. *Commented in: Callaway E. (2014) Epigenomics starts to make its mark. Nature, 508: 20-22.; Murphy TM and Mill J. (2014) Lancet 383(9933):1952-4.
Kung T, Dennis J, Ma RY, Xie G, Bykerk V, Pope J, Thorne C, Keystone E, Siminovitch KA, Gagnon F. (2013) RFC-1 80G>A is a genetic determinant of methotrexate efficacy in rheumatoid arthritis: A HuGE review and meta-analysis of observational studies. Arthritis and Rheumatism 66(5):1111-20.
Tran C, Gagnon F, Wigg KG, Feng Y, Gomez L, Cate-Carter TD, Kerr EN, Field LL, Kaplan BJ, Lovett MW, Barr CL. (2013) A family-based association analysis and meta-analysis of the reading disabilities gene DYX1C1. American Journal of Medical Genetics B: Neuropsychiatric Genetics. 162B(2):146-56.
Dennis J, Yang Johnson C, Adediran A, de Andrade M, Heit J, Morange PE, Trégouët DA, Gagnon F. (2012) The Endothelial Protein C Receptor (PROCR) Ser219Gly Variant and Risk of Common Thrombotic Disorders: A HuGE Review and Meta-Analysis of Evidence from Observational Studies. Blood 119(10):2392-400.
Antoni G, Oudot-Mellakh T, Dimitromanolakis A, Germain M, Cohen W, Wells P, Lathrop M, Gagnon F, Morange PE, Tregouet DA. (2011) Combined analysis of three genome-wide association studies on vWF and FVIII plasma levels. BMC Med Genetics 12:102
Gagnon F, Roslin N, Lemire M. 2011. Successful identification of rare variants using oligogenic segregation analysis as a prioritizing tool for whole-genome sequencing studies. BMC Proceedings 5 (Suppl 9):S11
Yang-Johnson C, Tuite A, Morange PE, Tregouet DA, Gagnon F. (2011) The Factor XII -4C>T Variant and Risk of Common ThromboticDisorders: A HuGE Review and Meta-Analysis of Evidence From Observational Studies. American Journal of Epidemiology 173: 136-144 .
Granger B, Gueneau L, Drouin-Garraud V, Pedergnana V, Gagnon F, Yaou B, Tezenas du Montcel S, Bonne G. (2010) Modifier locus of the skeletal muscle involvement in Emery-Dreifuss muscular dystrophy. Human Genetics 129:149-159.
Antoni G, Morange PE, Luo Y, Saut N, Burgos G, Heath S, Germain M, Biron-Andreani C, Schved JF, Pernod G, Galan P, Zelenika D, Alessi MC, Drouet L, Visvikis-Siest S, Wells PS, Lathrop M, Emmerich J, Tregouet DA, Gagnon F. (2010) A multi-stage multi-design strategy provides strong evidence that the BAI3 locus is associated with early-onset venous thromboembolism. Journal of Thrombosis and Haemostasis 8:2671-2679.
Buil A, Trégouët DA, Souto JC, Saut N, Germain M, Rotival , Tiret L, Cambien F, Lathrop M, Zeller T, Alessi MC, Rodriguez de Cordoba S, Münzel T, Wild P, Fontcuberta J, Gagnon F, Emmerich J, Almasy L, Blankenberg S, Soria JM, Morange PE (2010) C4BPB/C4BPA is a new susceptibility locus for venous thrombosis with unknown protein S independent mechanism: results from genome-wide association and gene expression analyses followed by case-control studies. Blood 115: 4644-4650.
Little J, Higgins J, Ioannidis JPA, Moher D, Gagnon F, von Elm E, Khoury MJ on behalf of the STREGA group Cohen B, Davey-Smith G, Grimshaw J, Scheet P, Gwinn M, Williamson RE, Zou GY, Hutchings K, Johnson CY, Tait V, Wiens M, Golding J, van Duijn C, McLaughlin J, Paterson A, Vogan KJ, Wells G, Fortier I, Freedman M, Zecevic M, King R, Infante-Rivard C, Stewart A, Birkett N. (2009) Strengthening the REporting of Genetic Association studies (STREGA) – an extension of the STROBE statement. Simultaneous publication February 2009 in: Annals of Internal Medicine, PLOS Medicine, Genetic Epidemiology, European Journal of Epidemiology, Journal of Clinical Epidemiology, European Journal of Clinical Investigation, Human Genetics.