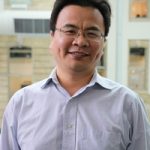 Faculty Member
Pingzhao Hu PhD,Statistical Genetics and Bioinformatics
Email Address(es)

Website(s)

Curriculum Vitae

Division(s)/Office

Position

Assistant Professor

SGS Status

Associate Member

Appointment Status

Status Only
Research Interests
Deep learning and visual analytics
Imaging genetics and electronic medical records
Genetic epidemiology and statistical genetics
Multidimensional omics data integration
Machine Learning and big data science
We are looking for excellent candidates (MSc and PhD) to join our NSERC CREATE Graduate Training Program in Visual and Automated Disease Analytics (VADA).  The candidates should have strong backgrounds in computer science and/or (bio)statistics. The positions are fully funded. 
To apply for the positions, please send a CV, transcripts and related reports/publications written in English to Dr. Pingzhao Hu at pingzhao.hu@utoronto.ca or pingzhao.hu@umanitoba.ca. More details can be found at http://www.hu-bioinformaticslab.org/positions.html.
Representative Publications
Methodology
P Hu*, X Wang*, JJ Haitsma, S Furmli, H Masoom, M Liu, AS Slutsky, J Beyene, CM Greenwood, CC dos Santos (2012). Microarray meta-analysis identifies acute lung injury biomarkers in donor lungs that predict development of primary graft failure in recipients. Plos One 7:e45506.
P Hu, S Bull, H Jiang (2012). Gene network modular-based classification of microarray samples. BMC Bioinformatics13 (Suppl 10): S17.
W Wang, W Hu, F Hou, P Hu, Z Wei (2012). SNVerGUI: A desktop tool for variant analysis of next-generation sequencing data. Journal of Medical Genetics 12:753-755.
PC Havugimana*, GT Hart*, T Nepusz*, H Yang*, AL Turinsky, Z Li, PI Wang,, DR Boutz, V Fong , S Phanse, M Babu, SA Craig, P Hu, C Wan, J Vlasblom, V Dar, A Bezginov, GW Clark, GC Wu, SJ Wodak, ERM Tillier, A Paccanaro, EM Marcotte, A Emili (2012). A census of human soluble protein complexes. Cell 150:1068-1081.
Z Wei, W Wang, P Hu, GJ Lyon, H Hakonarson (2011). SNVer: a statistical tool for variant calling in analysis of pooling or individual next-generation sequencing data. Nucleic Acids Research 39:e132.
P Hu, H Jiang, A Emili (2010). Predicting protein functions by relaxation labeling protein interaction network. BMC Bioinformatics 11(Suppl):S64.
P Hu, CMT Greenwood, J Beyene (2009). Using the ratio of means as the effect size measure in combining results of microarray experiments. BMC System Biology 3:106.
P Hu*, SC Janga*, M Babu*, JJ Diaz-Mejia*, G Butland*, W Yang, O Pogoutse, X Guo, S Phanse, P Wong, S Chandran, C Christopoulos, A Nazarians-Armavil, NK Nasseri, G Musso, M Ali, N Nazemof, V Eroukova, A Golshni, A Paccanaro, JF Greenblatt, G Moreno-Hagelseib, A Emili (2009). Global functional atlas of Escherichia coli encompassing previously uncharacterized proteins. PLoS Biology 7:e96.
P Hu, G Bader, DA Wigle, A Emili (2007). Computational Prediction of cancer gene function. Nature Reviews Cancer 7:23-34.
T Kislinger*, B Cox*, A Kannan*, C Chung, P Hu, A Ignatchenko, MS Scott, A Gramolini, Q Morris, T Hughes, J Rossant, B Frey, A Emili (2006). Global survey of organ and organelle protein expression in mouse: combined proteomic and transcriptomic profiling. Cell 125:173-186.
P Hu, J Beyene, CMT Greenwood (2006). Testing for differential gene expression in oligonucleotide microarray experiments using weights. BMC Genomics 7:33.
P Hu, CMT Greenwood, J Beyene (2005). Integrative analysis of multiple gene expression profiles with quality-adjusted effect size models. BMC Bioinformatics 6:128.
Application
JD Mills, T Nalpathamkalam, HIL Jacobs, C Janitz, D Merico, P Hu, M Janitz (2013). RNA-Seq analysis of parietal cortex in Alzheimer's disease reveals alternatively spliced isoforms related to lipid metabolism. Neuroscience Letters 536:90-95.
P Moffatt, M Ben-Amor, FH Glorieux, P Roschger, K Klaushofer, JA Schwartzentruber, AD Paterson, P Hu, C Marshall, FORGE Canada Consortium, S Fahiminiya, J Majewski, CL Beaulieu, KM Boycott, F Rauch (2013). Metaphyseal dysplasia with maxillary hypoplasia and brachydactyly is caused by a duplication in RUNX2. American Journal of Human Genetics 92:252-258.
CC dos Santos, S Murthy, P Hu, Y Shan, JJ Haitsma1, SHJ Mei, DJ Stewart, WC Liles (2012). Network analysis of transcriptional responses induced by mesenchymal stem cells treatment of experimental sepsis. American Journal of Pathology 181:1681-1692.
R Ribeiro, C Monteiro, V Catalán, P Hu, V Cunha, A Rodriguez, J Gómez-Ambrosi, A Fraga, P Príncipe, C Lobato, F Lobo, A Morais, V Silva, J Sanches-Magalhães, J Oliveira, F Pina, C Lopes, R Medeiros, G Frühbeck (2012). Obesity and prostate cancer: gene expression signature of human periprostatic adipose tissue. BMC Medicine 10:108.
D Picard, S Millar, CE Hawkins, E Bouffet, HA Rogers, TSY Chan, SK Kim, YS Ra, J Fangusaro, A Korshunov, H Toledano, H Nakamura, JT Hayden, J Chan, L Lafay-Cousin, P Hu, X Fan, KM Muraszko, SL Pomeroy, CC Lau, HK Ng, C Jones, TV Meter, SC Clifford, C Eberhart, A Gajjar, SM Pfister, RG Grundy, A Huang (2012). Markers of survival and metastatic potential in childhood CNS primitive neuro-ectodermal brain tumors: an integrative genomic analysis. Lancet Oncology 13:838-848.
AM Muise, W Xu, CH Guo, T Walters, VM Wolters, R Fattouh, GY Lam, P Hu, R Murchie, M Sherlock, JC Gana, NEOPICS, RK Russell, M Glogauer, RH Duerr, J Cho, CW Lees, J Satsangi, DC Wilson, AD Paterson, AM Griffiths, MS Silverberg, JH Brumell (2012). NADPH oxidase complex and IBD candidate gene studies: identification of a rare variant in NCF2 that results in reduced binding to RAC2. Gut 61:1028-1035.
EJ Parra, JE Below, S Krithika, A Valladares, JL Barta, NJ Cox, CL Hanis, N Wacher, J Garcia-Mena, P Hu, MD Shriver, The DIAGRAM Consortium, J Kumate, PM McKeigue,J Escobedo, M Cruz (2011). Genome-wide association study of type 2 diabetes in a sample from Mexico city and a meta-analysis of a Mexican-American sample from Starr county, Texas. Diabetologia 54:2038-2046.
RF Wintle, AC Lionel, P Hu, SD Ginsberg, D Pinto, B Thiruvahindrapduram, J Wei, CR Marshall, J Pickett, E Cook, SW Scherer (2011). A genotype resource for postmortem brain samples from the Autism Tissue Program. Autism Research 4:89 – 97.
MMG Seno, P Hu, FG Gwadry, D Pinto, CR Marshall, G Cassallo, SW Scherer (2011). Gene and miRNA expression profiles in autism spectrum disorders. Brain Research 1380:85-97.
SD Molyneux*, MD Grappa*, AG Beristain, TD McKee, DH Wai, J Paderova, M Kashyap, P Hu, T Maiuri, SP Narala, V Stambolic, J Squire, J Penninger, O Sanchez, TJ Triche, GA Wood, LS Kirschner, R Khokha (2010). PRKAR1A is an Osteosarcoma tumor suppressor and defines a molecular subclass in mice. Journal of Clinical Investigation 120:3310-3325.