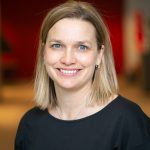 Faculty Member
Jennie Johnstone
Email Address(es)

Division(s)/Office

Position

Assistant Professor

SGS Status

Associate Member

Appointment Status

Status Only
Research Interests
As a practicing Infectious Diseases and Infection Prevention and Control physician and scientist, I am highly motivated to find better ways to prevent healthcare associated infections. My research interest and focus is therefore the prevention of healthcare associated infections.
My first program of research aims to determine ways to prevent transmission of vancomycin resistant Enterococci (VRE), antibiotic resistant organisms that primarily spread in hospitals.
My second program of research is focused on the prevention of ventilator associated pneumonia and other healthcare associated infections in the critically ill. I currently co-lead the PROSPECT Trial, a multi-center, multi-national trial testing whether administration of probiotics reduce ventilator associated pneumonia and other healthcare infections in critically ill, mechanically ventilated patients.