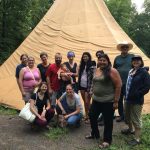 Faculty Member
Angela Mashford-​Pringle PhD, Dalla Lana School of Public Health, University of Toronto
Email Address(es)

Office Phone

416-978-8771

Office Address

155 College St., Room 403 Toronto, ON M5T 3M7

Website(s)

Division(s)/Office

Position

Assistant Professor

SGS Status

Associate Member

Appointment Status

Tenure Stream

Admin Position

Associate Director, Waakebiness-Bryce Institute for Indigenous Health Director, Collaborative Specialization in Indigenous Health

Admin Faculty Appointment

MPH* Degree Program
Research Interests
Indigenous health policy in Canada and the United States
Indigenous self-determination and self-governance – specifically in health systems
Indigenous health and education
Indigenous early childhood development and education
Indigenous social determinants of health
Indigenous data sovereignty
Indigenous food systems
Indigenous land-based learning and pedagogies
Current Research Projects 2019/20:
Mamwi Gidaanjitoomin: Together We Change ItThe Mamwi Gidaanjitoomin project aims to privilege Indigenous knowledges to address the devastating amount of freezing deaths that occur among people experiencing homelessness in the winter months. This project intends to provide low-barrier shelter for people experiencing homelessness in an urban setting while also increasing awareness of Indigenous cultures, structures, and ways of living. The project is composed of four aspects: knowledge transmission, shelter, social services, and garden creation, each providing unique opportunities for Indigenous peoples, people experiencing homelessness, and the general public.
Kijibashik: Turn It AroundThe recently concluded National Inquiry into Missing and Murdered Indigenous Women and Girls (2019) found that, in order for the cycle of criminalisation and overincarceration to be broken, Indigenous communities must be given the capacity, resources, and support necessary to inform meaningful and sustainable programming that aids women in the transition from prison to society. Accordingly, this project will identify the mental, spiritual, physical, and relational implications of incarceration for Indigenous mothers using a community-based research methodology that centers the lived experience of previously incarcerated Indigenous mothers. In collaboration with these women, Elders, Healers, several key Indigenous organisations, and researchers, the knowledge generated will inform the development of programs and services that support Indigenous mothers transitioning out of prison from a gender-inclusive and community-led perspective.
Turtle Island Journal of Indigenous Health (TIJIH) is dedicated to fostering respectful collaboration and the co-creation of knowledge within the field of Indigenous health. Grounded in traditional teachings and an Indigenous scholarly lens, TIJIH aims to support dialogue and knowledge translation between academia, Indigenous communities and broader society while honouring Indigenous ways of knowing. TIJIH is a graduate student-led open source online journal with i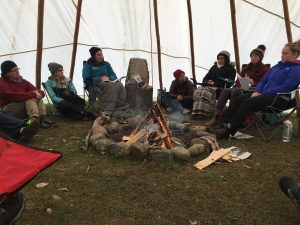 Dr. Angela Mashford-Pringle is an Assistant Professor and Associate Director for the Waakebiness-Bryce Institute for Indigenous Health, Dalla Lana School of Public Health, University of Toronto. Angela is the Director of the Master of Public Health – Indigenous Health program (MPH-IH), Director of the Collaborative Specialization in Indigenous Health (CSIH) and Founding Editor of the Turtle Island Journal on Indigenous Health (IJIH). She is an urban Algonquin woman from Timiskaming First Nation in northern Quebec whose research is at the intersection of Indigenous health and education.  She has held leadership and administrative positions at Peel District School Board, St. Michael's Hospital's Well Living House, and Centennial College as the inaugural Aboriginal Programs Manager where she developed the Aboriginal Business Diploma. Angela worked for more than 10 years at Health Canada and the Public Health Agency of Canada managing a variety of Aboriginal social programs like Aboriginal Head Start Urban and Northern Communities. She has been a Lecturer at University of Toronto, a part-time faculty member at Sheridan College, Sessional Lecturer at Ryerson University, York University and University of Victoria.
Dr. Mashford-Pringle will be teaching CHL5520 Indigenous Health as an intensive course at the end of August 2020, and CHL5523 Indigenous Health and Social Policy in Fall 2020. Dr. Mashford-Pringle is the Director of the Collaborative Specialization in Indigenous Health (CSIH).  For more information on the Collaborative Specialization, please go to: http://www.dlsph.utoronto.ca/institutes/wbiih/collaborative-specialization-in-indigenous-health/
Dr. Mashford-Pringle and Dr. Suzanne Stewart (Director of WBIIH) are co-editors for the International Journal of Indigenous Health.  If you are interested in volunteering  or being a peer reviewer with the journal please email: wbiih.dlsph@utoronto.ca.