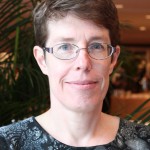 Faculty Member
Janet Raboud PhD, Biostatistics
Email Address(es)

Office Phone

(416) 340-4137

Office Address

Toronto General Hospital Room 13EN226, 200 Elizabeth St Toronto, ON M5G 2C4

Division(s)/Office

Position

Adjunct Professor

SGS Status

Associate Member
Research Interests
non-randomly missing data in longitudinal studies
methodologic issues in the design of HIV clinical trials
methodologic issues in the analysis of observational data
predictors of comorbidities in HIV positive individuals
Education & Training History
1991, PhD, University of Toronto
1987, MSc, University of Washington
1985, BMath, University of Waterloo
Primary Teaching Responsibilities
CHL 5225: Advanced Statistical Methods for Clinical Trials (with Andy Willan, Kevin Thorpe and Melania Pintilie)
Professional Summary & Appointments
Affiliate Scientist, Toronto General Research Institute
Adjunct Scientist, Institute for Clinical Evaluative Sciences
Honours & Awards
Ontario HIV Treatment Network Career Scientist Award 2005-2014
Current Research Projects
2012-2014, Raboud JM (PI), Bayoumi AM, Burchell AN, Gardner S, Klein MB, Loutfy M, Tseng A, Walmsley S. Development and Validation of an Algorithm to Impute Missing Stop Dates of Antiretroviral Therapy Regimens, Canadian Institutes of Health Research, $152,269.
2012-2014, Bayoumi AM, Antonio T, Burchell A, Glazier R, Kendall C, Loutfy M, Millson M, Raboud J, Remis R, Rourke S, Worthington C. Retention in Care for People Living with Human Immunodeficiency Virus in Ontario. Canadian Institutes of Health Research, $249,357
2012-2014, Tan D, Raboud JM, Walmsley S, Kaul R. A case-control study of novel bone imaging techniques and bone turnover markers in HIV-infected persons with or without fragility fractures. Canadian Foundation for AIDS Research (CANFAR), $24,981
2011-2016, Loutfy M (PI), Raboud JM (Co-I), et al. Canadian HIV Women and Reproductive Health Cohort Study, a Canadian Observational Cohort (CANOC) Affiliated Study, Canadian Institutes of Health Research, $1,192,490
2011-2014, Loutfy M, Yudin M, Walmsley S, Raboud JM, Rosenthal K, Tseng A, La Porte C, Smaill F, Brophy J, Silverman M. Interdisciplinary HIV Pregnancy Research Group: Care and Research to Optimize HIV-positive Women's Health during Preconception, Pregnancy and Motherhood, Canadian Institutes of Health Research, $900,000.
2011-2013, Salit I, Raboud JM, Tinmouth J, Collins E, Kovacs C, Calzavara L, Treatment of Anal Dysplasia: Acceptability and Outcomes, Canadian Cancer Society, $193,009.
2009-2015, Walmsley SL, Tan D, Raboud JM, Kaul R, Grinsztein B, Can Valacyclovir Delay the Need for Initiation of HIV Treatment in HIV-Infected Individuals with Asymptomatic Herpes Simplex Virus Type 2? Canadian Institutes of Health Research. $4,461,444.
2009-2012, Raboud JM, Walmsley S, Loutfy M, Gardner S, Bayoumi A. Methodologic Issues Associated with the Ontario Cohort Study, OHTN, $240,000.
2008-2013, Hogg RS, Raboud JM, et al. Canadian Observational Cohort (CANOC) Collaboration. CIHR Emerging Team Grant Program, HIV/AIDS Competition, $472,000 per year.
2008-2013 Money D, Raboud JM, et al. A Study of HPV Vaccine in a Cohort of HIV Positive Girls and Women. CIHR $323,000 per year.
2009-2014 Raboud JM. Building Methodologic Strength in HIV Clinical Research in Ontario. OHTN Career Scientist Award
Representative Publications
Career total 174.
Grennan T, Loutfy M, Su D, Harrigan PR, Cooper C, Klein M, Machouf N, Montaner JSG, Rourke S, Tsoukas C, Hogg RS, Raboud JM. The magnitude of virologic blips is associated with a higher risk for virologic rebound in HIV-infected individuals: a recurrent events analysis. J Infectious Disease. 2012; 205(8): 1230-8.
Raboud JM, Li M, Walmsley S, Cooper C, Blitz S, Bayoumi A, Rourke S, Rueda S, Rachlis A, Mittman N, Smieja M, Collins E, Loutfy M. Once Daily Dosing Improves Adherence to Antiretroviral Therapy. AIDS and Behavior. 2011; 15(7): 1397-1409.
Raboud JM, Blitz S, Walmsley S, Thompson C, Rourke S, Loutfy M. Effect of Gender and Calendar Year on Time to and Duration of Virologic Suppression among Antiretroviral-Naïve HIV-infected Individuals Initiating Combination Antiretroviral Therapy. HIV Clinical Trials. 2010: 11(6): 340-350.
Raboud JM, Diong C, Carr A, Grinspoon S, Mulligan K, Sutinen J, Rozenbaum W, Cavalcanti R, Emery S, Costagliola D, Walmsley S. Meta-Analysis of Six Placebo-Controlled Trials of Thiazolidinedione Therapy for HIV Lipoatrophy. HIV Clinical Trials. 2010; 11(1):39-50.
Tan DHS, Chan K, Raboud JM, Cooper C, Montaner JSG, Walmsley SL, Hogg RS, Klein MB, Machouf N, Rourke S, Tsoukas C, Loutfy MR and the CANOC Collaboration. Comparison of abacavir/lamivudine and tenofovir/emtricitabine among treatment naïve HIV infected patients initiating therapy. JAIDS. 2011; 58(1):38-46.