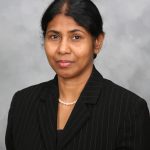 Faculty Member
Savithiri Ratnapalan MBBS, MEd
Email Address(es)

Office Phone

416-813-7532

Office Address

Div. of Emergency Medicine, Hospital for Sick Children 555 University Ave. Toronto, ON M5G 1X8

Division(s)/Office

Position

Professor

SGS Status

Associate Member

Appointment Status

Status Only
Research Interests
Continuing Education
Project planning and Management in Health Professions
Sedation
Posoning and injury prevention in children
Paediatric emergency therapeutics
Medical education
Primary Teaching Responsibilities
Continuing Education in Health Professions CHL 5609
Continuing Education Planning, Management and Evaluation in Health Professions. CHL5611
Honours & Awards
Helen Batty Award for Faculty Development 2010-2011
Current Research Projects
Representative Publications
Al Shehri F, Duan L, Ratnapalan S. Psychosocial impacts of adult strabismus and strabismus surgery: A review of the literature. Canadian Journal of Ophthalmology/Journal Canadien d'Ophtalmologie 2016. (Nov) SRA 
Alshammary SA, Duraisamy B, Alsuhail A, Mhafzah M, Saleem LM, Mohamed N, Ratnapalan S. Diabetes management patterns in a palliative care unit in Saudi Arabia. Journal of Health Specialties. 2016 Apr1; 4 (2):116. Coll
Muskat B, Greenblatt A, Nicholas DB, Ratnapalan S, Cohen-Silver J, Newton AS, Craig WR, Kilmer C, Zwaigenbaum L. Parent and health care provider perspectives related to disclosure of autism spectrum disorder in Paediatric emergency departments. Autism. 2016 Feb 5:1362361315621520. Coll
Al Sharif S, Ratnapalan S. Managing Children with Autism Spectrum Disorders in Emergency Departments. Paediatric emergency care. 2016 Feb 1; 32 (2):101-3. SRI
Ratnapalan S. What is the proper attire for a Paediatric Emergency Medicine (PEM) consultant? Emerg Med J. 2015 Aug 3: emermed-2015-205198. PA
Ratnapalan S, Al Sharif S. Adolescent Ingestions Presenting to a Paediatric Emergency Department. J Child Adolesc Behav. 2015; 3:250. doi:10.4172/2375-4494. PA
Alshammary SA, Alsuhail A, Duraisamy BP, Alabdullateef SH,  Ratnapalan S. Interval between first palliative care consultation and death among patients in a comprehensive cancer center in Saudi Arabia. Journal of Health Specialties. 2015; 3(2) 61-66. Coll
Alterkait A*, Jamjoom R, Ratnapalan S. Head trauma and intracranial hemorrhage in children with idiopathic thrombocytopenic purpura. Pediatr Emerg Care. 2015 Jun; 31(6):454-8. SRA
Cohen-Silver JH, Muskat B, Ratnapalan S. Autism in the Emergency Department. Clin Pediatr (Phila). 2014 Oct; 53(12):1134-8. SRA
 Ratnapalan S. Chloral Hydrate Sedation in Children. Clin Pediatr (Phila). 2014 Sept; 53(10): 933-966. PA
Eason Klatt M*, Ratnapalan S. Earlobe Anomalies in Children. Clin Pediatr (Phila). 2014 Aug; 53(9):823-5. SRA
Hudson J*, Ratnapalan S. Teaching clinical skills with patient resources. Can Fam Physician. 2014 Jul; 60(7):674-7. SRA
Hudson J*, Ratnapalan S. Enseigner les habiletés cliniques avec l'aide des patients. Can Fam Physician. 2014 Jul; 60(7):e372-e375. French. SRA
Zaher E*, Keogh K*, Ratnapalan S. Effect of domestic violence training: Systematic review of randomized controlled trials. Can Fam Physician. 2014; 60(7):618-624. SRA
Zaher E*, Keogh K*, Ratnapalan S. Effets de la formation sur la violence conjugale: Révision systématique d'études randomisées contrôlées. Can Fam Physician. 2014 Jul; 60(7):e340-e347. French. SRA
Evans A, Caudarella A, Ratnapalan S, Chan K. The cost and impact of the interim federal health program cuts on child refugees in Canada. PLoS One. 2014 May 8; 9(5):e96902. Coll
Etoom Y, Ratnapalan S. Evaluation of Children with Heart Murmurs. Clin Pediatr (Phila). 2014 Feb; 53(2):111-117. SRA
Al-Azri H*, Ratnapalan S. Problem-based learning in continuing medical education: Review of randomized controlled trials. Can Fam Physician. 2014 Feb; 60(2):157-165. SRA
Ratnapalan S, Uleryk E. Organizational Learning in Health Care Organizations. Systems. 2014; 2(1): 24-33. PA
Wadhwa A, Das L, Ratnapalan S. Faculty Development Effectiveness:  Insights from a Program Evaluation. Journal of Biomedical Education. 2014; Article ID 286081, 5 pages, doi:10.1155/2014/286081. SRA
Lochhead A, Jamjoom R, Ratnapalan S. Intussusception in children presenting to the emergency department. Clin Pediatr (Phila). 2013 Nov; 52(11):1029-1033. SRA
McCoy S, Wakai A, Blackburn C, Barrett M, Murphy A, Brenner M, Larkin P, Crispino-O Connell G, Ratnapalan S, O Sullivan R. Structured sedation programs in the emergency department, hospital and other acute settings: protocol for systematic review of effects and events. Syst Rev. 2013 Oct 1; 2(1):89. Coll
Alshammary SA*, Ratnapalan S, Akturk Z. Continuing medical education as a national strategy to improve access to primary care in Saudi Arabia. J Educ Eval Health Prof. 2013 Aug; 10:7. doi: 10.3352/jeehp.2013.10.7. SRA
Ratnapalan S, Martimianakis MA, Cohen-Silver JH, Minnes B, Macgregor D, Allen U, Richardson SE, Friedman JN, Bruce-Barrett C, Haj-Assaad L, Noordermeer J, Daneman D. Pandemic Management in a Paediatric Hospital. Clin Pediatr.2013 Apr; 52(4):322-328. PA
Douglas L*, Cheskes S, Feldman M, Ratnapalan S. Death notification education for paramedics: Past, present and future directions. Journal of Paramedic Practice. Mar 2013; 5(3):152-159. SRA
Ménard L*, Ratnapalan S, Teaching Moment: Reflection in medicine: Models and application. Can Fam Physician. Jan 2013; 59(1): 105-107. SRA
 Ratnapalan S. Legal substances and their abuse: Legal highs. Journal of Paramedic Practice. Jan 2013; 5(1):40-51. PA
Douglas L*, Cheskes S, Feldman M, Ratnapalan S. Paramedics' experiences with death notification: a qualitative study. Journal of Paramedic Practice. Sep 2012; 4(9):533–539. SRA
 Zaher E*, Ratnapalan S. Practice-based small group learning programs. Can Family Physician. June 2012; 58(6): 637-642. SRA
Ratnapalan S, Brown K, Cieslak P, Cohen-Silver J, Jarvis A, Mounstephen W. Charting errors in a teaching hospital. Pediatr Emerg Care. 2012 Mar; 28(3):268-271. PA
 Al Odhayani A*, Ratnapalan S. Teaching communication skills. Can Fam Physician. 2011 Oct; 57(10):1216-1218. SRA
Leung FH*, Ratnapalan S. A framework to teach self-reflection for the remedial resident. Med Teach. 2011; 33(3):e154-157. SRA
Ratnapalan S, Das L. Causes of eye burns in children. Pediatr Emerg Care. 2011 Feb; 27(2):151-156. PA
Ratnapalan S, Brown K, Benson L. Children presenting with acute pericarditis to the emergency department. Pediatr Emerg Care. 2011;27(7):581-585. PA
Ratnapalan S. Mentoring in medicine.Can Fam Physician. 2010 Feb;56(2):198.
Leung FH, Ratnapalan S.A framework to teach self-reflection for the remedial resident. Med Teach. 2011;33(3):e154-7.
Lacasse M, Ratnapalan S. Teaching-skills training programs for family medicine residents: systematic review of formats, content, and effects of existing programs. Can Fam Physician. 2009 Sep;55(9):902-7
Leung F and Ratnapalan S. Spotlight on focus groups. Can Fam Physician, February 2009; 55: 218 – 219
Lam-AntoniadesM, RatnapalanS,Tait G. Electronic continuing education in the health professions: An update on evidence from RCTs J Contin Educ Health Prof 2009; 29(1):44-51
RatnapalanS. Knowledge to action: Scholarship for faculty and staff Contin Educ Health Prof 2009; 29(1):32-38
Ricks C, Ratnapalan S, Jain S, Tait G.Evaluating computer-assisted learning for common pediatric emergency procedures. Pediatr Emerg Care. 2008 May;24(5):284-6.
Ratnapalan S, Schneeweiss S.Guidelines to practice: the process of planning and implementing a pediatric sedation program. Pediatr Emerg Care. 2007 Apr;23(4):262-6.
Ratnapalan S, Ito S. Pediatric resident education and needs assessment in clinical pharmacology. Can J Clin Pharmacol. 2004 Spring;11(1):e150-5.
Ratnapalan S, Hilliard RI. Needs assessment in postgraduate medical Education. Med Educ Online 2002;7:8.