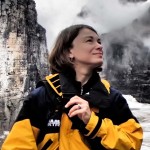 Featured Student
Virginia Gunn
What's your program and specialty?
I am a third year PhD student in the Collaborative Program in Global Health and the Lawrence S. Bloomberg Faculty of Nursing, specializing in Critical Approaches to Health and Health Care as a field of study. My research interests include global health, the social determinants of health, health and gender equity, nursing workforce capacity building, and healthy public policy.
I hold a 2015-2016 Collaborative Doctoral Program in Global Health Fellowship.
Why are you studying global health?
Being a health care provider in a globalized world and a cosmopolitan metropolis such as Toronto, I am interested in learning more about worldwide health issues.
My interest in global health is well aligned with my other research interests and dates many years back. Throughout my academic training, I took numerous courses related to this topic and I also have relevant professional experiences in this field. For the last 18 years, I worked as a health promotion officer and registered nurse in a variety of healthcare fields, including public health (tobacco prevention, school health, youth engagement, mental health, and injury prevention), long-term care, and acute-care. I practiced both in the North American continent, in Canada and in Europe, in Romania.
Why did you choose to take part in the Collaborative Doctoral Program in Global Health?
This program's objectives are an excellent fit with my career goals and research interests. Participating in this program allows me to increase my understanding of the multidisciplinary approaches available to address the multitude of global health challenges. In addition, it allows me to access training, collaboration, and mentorship opportunities relevant to global health research and practice.
What are some current projects or research that you're involved in?
Most recently, I co-authored an article on the social determinants of health which was published in the Oxford Bibliographies in Public Health. I am also involved in mentoring a 2nd year PhD student and working as a Teaching Assistant for graduate courses in the Faculty of Nursing.
Other activities involve being an article peer-reviewer for an international health journal, as well as preparing presentations for national and international conferences and symposiums.
In the last few years, I volunteered for a variety of healthcare organizations including a distress centre, a community health centre, and a nurses' environmental health interest group. These experiences added new perspectives to my understanding of the impact of public policies on the health of individuals and populations.
If you have one, what is your dissertation title?
Nursing Professionalization, Gender Equity, and Welfare State Typologies: Identifying Macro-Level Factors that Advance Nursing Professionalization
What would you say to a prospective student who is considering the CDPGH or studying global health at the University of Toronto more broadly?
I strongly believe that these programs offer unique advantages to graduate-level students interested in global health. In addition to participating in monthly informative and eye-opening seminars, the opportunities available to students include a multitude of relevant events, presentations, conferences, networking activities, workshops, and volunteer roles.
What's the one thing people can do to improve public health locally and/or globally?
I believe that, in order to make significant and sustainable contributions to public health both locally and globally, we have to consider and address the influence of structural policies and the social determinants of health. This perspective will help us focus our interventions on the upstream sources of disease, or the so called causes of the causes.