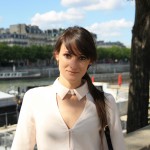 Featured Student
Linda Kachuri
What's your program and specialty/subject matter of focus?    
I am a PhD in Epidemiology, specializing in Genetic Epidemiology. I'm also a trainee within the CIHR Strategic Training for Advanced Genetic Epidemiology (STAGE) program.
Why are you studying public health?
I have always been drawn to the investigative aspect of epidemiology, looking for clues and trying to disentangle the complex web of environmental, social, and genetic factors that influence disease susceptibility. I also believe that studying these factors on the population level not only offers great insight into the causes of disease, but also provides actionable targets for improving future health outcomes.
Why did you choose to study at the Dalla Lana School of Public Health?
The School is uniquely positioned to bring together world-class researchers and leaders in public health. As someone who is interested in the causes and mechanisms of cancer, I realized that DLSPH provided a truly interdisciplinary training environment, and as well as the opportunity to learn from leaders who are pushing this field forward.
What are some current projects or research that you're involved in?
One of the aims of my doctoral dissertation is to investigate the role of genetic variants in chromosome 5p15 with respect to lung cancer risk. This genetic region is implicated in the risk of many cancers, but the underlying mechanisms remain obscure. I hope to contribute to this question by identifying genetic predictors of telomere length in 5p15, and elucidating the causal relationship between telomere length and lung cancer risk.
I am also involved in several projects that focus on environmental and occupational cancer risk factors, investigating exposures like diesel and gasoline emissions, mineral fibers, pesticides, and emerging contaminants, such as brominated flame retardants.
What would you say to a prospective student who is considering the School?
Deciding on the location of your graduate studies is a very personal choice that is influenced by many non-academic factors. Toronto is a diverse, hectic and energizing city that is home to many renowned research institutions, hospitals, and organizations. This is one of the many reasons why DLSPH offers a dynamic research environment that will challenge you, and provides the opportunity to participate in high quality, innovative research.
I would strongly encourage prospective students to visit Toronto and DLSPH, to reach out to faculty whose research intrigues you, and try to connect with current students to learn more about their experience.
What's the one thing people can do to improve public health or health care locally and/or globally?
I think that fear of change is one of the biggest things that is holding us back. In terms of disease prevention, I hope we can be more open to changing our attitudes and behaviours. Being healthy is not just about eliminating disease, and I hope that as researchers we can help create a more thriving and supportive environment.