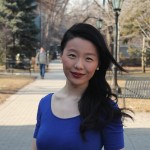 Featured Student
Annie Liang
What's your program and specialty/subject matter of focus?    
I'm currently in the Master of Public Health: Epidemiology (Global Health Emphasis) program and I'm a CIHR Fellow in the Public Health Policy Collaborative program. My research interests include neglected tropical diseases (NTDs), innovative Research and Development (R&D) financing models for diseases of poverty and international pharmaceutical policy (specifically trade-related intellectual property rights and its consequences with access to essential medicines in low/ middle-income countries).
I've worked in the grassroots sector on these issues for several years and have had the privilege of representing the youth voice on such issues in international forums like the World Health Assembly and the World Bank meetings.
Why are you studying public health/health policy?
With a strong personal interest in international development and social justice issues, the quantitative and qualitative skills obtained in public health provides the strong skill set needed to generate evidence to advocate for systemic change. Furthermore, population-based and systems approach to health has the potential prevent large-scale suffering, and improve the well-being of the vulnerable.
Why did you choose to study at the Dalla Lana School of Public Health?
The School's emphasis on quantitative research skills appealed to me. Having worked in the public policy sector researching the unaccompanied Central American migrant children crisis in the Southern US border, the need for quality data to debunk false accusations and serve as an evidence base to advocate for the rights of  the vulnerable made a strong impression on me.
DLSPH's numerous global health initiatives is reflective of its multidisciplinary perspective towards health in a globalized society, and provide many opportunities in terms of international collaborations. Finally, programs such as the Initiative for Drug Equity and Access are unique, and closely align with my own research interests in access to essential medicines.
What are some current projects or research that you're involved in?
I am currently on a field placement studying the impact of Kenya's cash transfer program on the psychological well-being of orphaned and vulnerable children residing in western Kenya where it's estimated that only 4.1 per cent of orphans reported receiving psychological support in 2012. Mental health remains a neglected topic in low and middle income counties (LMICs) and is one of the leading causes of health-related disability. It is my hope that data generated from this study can provide insight into improved models of care for vulnerable children. While in the field, I'm also assisting with another project studying the role of gender on the lives of Kenyan street youth.
In the past year, I have supported the New York, Paris and Geneva offices of Médecins Sans Frontières' Access Campaign on policy and advocacy research, specifically focusing on access to therapeutics for Ebola, Canada's role in the Transpacific Partnership agreements and ensuring affordable access to vaccines in LMICs. I'm currently working on the World Health Organization's Transformative Education for Health Professionals initiative, assisting with education and e-resource development for neglected tropical diseases.
What would you say to a prospective student who is considering the School?
Don't be afraid to talk to current students and reach out to current faculty members to see if their research interests align with your own. Look into the clubs and extracurricular activities available on the campus level, as they will play a significant role in your free time. Mostly importantly – don't be afraid to think outside of the box. Toronto is a vibrant city, and there are a lot of things always going on.
What's the one thing people can do to improve public health or health care locally and/or globally?
My favourite quote is "you can't save the world, but you can do small things with great care," highlighting that change is a slow and incremental process. Find what you love – even if it differs from the status quo – and throw yourself at it relentlessly. Be the advocate and don't be afraid to speak out on social issues, even if it may be frowned upon within the public health field itself due to perceived lack of neutrality. True passion always has a way of shining through, and you'll be surprised at the amount of people willing to support you.