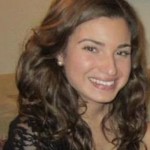 Featured Student
Amanda Veglia
What's your program and specialty/subject matter of focus?    
I am a Master of Public Health student in the Occupational and Environmental Health Research stream. I am also in the Collaborative Program in Public Health Policy.
Why are you studying public health/health policy?
Improving health has traditionally been focused on addressing individual behaviours. However, there are many other determinants of health, such as the neighbourhood in which we live, the occupation in which we work and our exposures to environmental pollutants that can indirectly or directly influence our health. Improving and preserving the health of populations often necessitates a broader conceptualization of health and the development, implementation and evaluation of policies to effectively address these issues.
Why did you choose to study at the Dalla Lana School of Public Health?
The School is a recognized global leader in public health and there are numerous opportunities for interdisciplinary learning. It's also situated in the heart of one of the largest cities in Canada, surrounded by public health professionals, advocates and researchers that are working to address various public health issues in Toronto and other jurisdictions, including occupational and environmental health.
What are some current projects or research that you're involved in?
I am currently completing a practicum at the Occupational Cancer Research Centre at Cancer Care Ontario where I am developing a policy framework to help generate policy options for the primary prevention of occupational cancer in Canada. As a Canadian Institutes of Health Research (CIHR) Fellow in Public Health Policy from 2014-2015, I also worked on a project pertaining to chronic disease prevention and the built environment in Peel Region.
What would you say to a prospective student who is considering the School?
There are a variety of opportunities, both professional and personal, at your disposal through the amalgamation of the DLSPH and the Institute of Health Policy, Management and Evaluation (IHPME), as well as in the surrounding Toronto area. You will also be able to learn from and work with internationally-known faculty and fellow students with a diverse range of backgrounds.
What's the one thing people can do to improve public health or health care locally and/or globally?
There are many local agencies and organizations that successfully engage with community members. It is possible to make an impact by engaging in issues you are passionate about with the public.