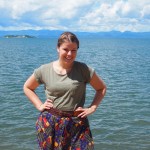 Featured Student
Jannah Wigle
What's your program and specialty?
Social and Behavioural Health Sciences, focusing on reproductive health and adolescent health.
Why are you studying global health?
I became passionate about studying global health and women's health in particular after interning at the World Health Organization in Geneva, Switzerland.  I was inspired by the influential role public health initiatives and policies play to improve the welfare of populations worldwide.  In addition, researching and working within the Department of Making Pregnancy Safer, ignited my passion and interest for women's health.
Why did you choose to take part in the Collaborative Doctoral Program in Global Health?
The collaborative doctoral program in global health is an interesting opportunity to learn more about diverse global health topics and issues and to meet and engage with global health leaders, students, academics and professionals.  The collaborative doctoral program represented a unique opportunity to complement my coursework, while furthering my learning, research and career goals.
What are some current projects or research that you're involved in?
I am currently researching and writing several manuscripts including investigating the progress to global delivery of the human papillomavirus vaccines as well as understanding factors that influence contraceptive use and health behaviour change among adolescents in sub-Saharan Africa.
If you have one, what is your dissertation title?
Youth Participation in Reproductive Health Policymaking in Malawi: Policy and Practice.