DLSPH Student Honoured as Global ChangeMaker
January 31/2013
Nadha Hassen, U OF T STUDENT HONOURED FOR PROMOTING YOUTH EDUCATION ON HIV/AIDS
As part of International Development Week 2013, Nadha Hassen is recognized as a Global Changemaker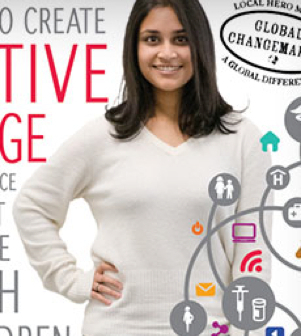 Toronto, ON. January 28th, 2013 — In celebration of International Development Week (IDW) from February 3-9, 2013, the Ontario Council for International Cooperation (OCIC) is presenting Nadha Hassen with the 2013 OCIC Global Changemaker Award for her active engagement in efforts to promote international cooperation both in Canada and globally. Nadha embodies the spirit of global social justice: she is a local hero making a global difference.
Nadha Hassen, 23, has contributed to Africa's Children-Africa's Future (AC-AF) programmes in both Canada and Tanzania. She co-developed a pilot youth-oriented workshop on abuse in Tanzania. She also facilitated arts-based workshops for youth in Toronto to raise awareness of HIV and AIDS, which included activities on myth-busting and overcoming stigma related to sexual health.
Africa's Children – Africa's Future (AC-AF) is a volunteer-based organization that works in Canada and Tanzania to create sustainable approaches to development issues locally and internationally.
International Development Week 2013 is celebrated nationally from February 3-9, 2013. During that time, OCIC, a council of Ontario-based international development and global education organizations and individuals working globally for social justice, will honour eight young Global Changemakers for their active engagement in promoting local and global social justice. To view the video profiles of the Global Changemakers beginning on Monday, February 4, 2013, please visit: http://ocic.on.ca. To learn more about International Development Week 2013, please visit: http://www.acdi-cida.gc.ca/idw.
This initiative is undertaken with the financial support of the Government of Canada provided through the Canadian International Development Agency (CIDA).
For media inquiries, please contact Sahar Golshan, Special Projects Coordinator at the Ontario Council for International Cooperation (OCIC) at (416) 972-6303 or at specialprojects@ocic.on.ca.