Creation of the Institute for Indigenous Health at the Dalla Lana School of Public Health
June 20/2014

Click here to the U of T news release
Dear Faculty, Staff, students and friends,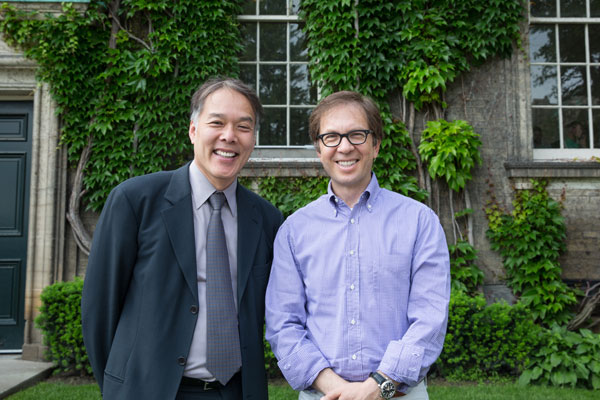 As the Dalla Lana School of Public Health winds up its first official year as a new Faculty, I am excited to share the news with you that we will be creating a new Institute for Indigenous Health.
This morning, we made the official announcement with the attached press release which we wanted to share with you right away.  We are exceptionally fortunate that a donor named Michael Dan and his wife Amira Dan have stepped up to help with the creation of this new Institute.
The Institute will be a multi-disciplinary unit designed to foster interdisciplinary and Indigenous community partnered research and scholarly innovation.  As many of us know, Indigenous peoples in Canada face striking and persistent disparities in health determinants, health status and access to health services, compared to the general Canadian population.   Major inquiries such as the Royal Commission on Aboriginal Peoples (1994), the Romanow Commission on the Future of Health Care in Canada (2002), and the Kelowna Accord deliberations (2005) all recognized the unacceptable disparities and recommended strategies for their elimination.  Indigenous leadership and participation in Indigenous health research practice and policy initiatives have been identified a fundamental cornerstone for moving forward.  Research and advanced training in research that addresses Indigenous health inequities can contribute to the ultimate goal of enhancing the health and wellbeing of Indigenous people in Canada when it is carried out in partnership with Indigenous communities and organizations.
The University of Toronto (U of T) has a long tradition of graduate education and research in Indigenous health and related fields conducted in various departments and units. Both the present external and internal environments are very conducive to promoting and consolidating research on Indigenous health at U of T.  The development of the Institute for Indigenous Health signals the University's commitment to improving the well-being of Indigenous people in Canada and across the world in partnership with Indigenous communities and organizations.  The Institute will be grounded in the responsibility of the University of Toronto to educate a citizenship that recognizes the rights of all people and respects the diverse intellectual heritages that make up Canada, with particular recognition of the unique position that Indigenous people hold in Canadian society.  The University recognizes the potential for innovation, relevance, and efficacy in Indigenous health policy and practice that arising from jointly drawing on community held Indigenous knowledge and practice and university-based scholarship.
The strategic vision of the Institute, shared by the collaborating faculty and students, will be to engage in research and education that will promote the health of Indigenous peoples in Canada and globally, using population-based, trans-disciplinary, Indigenous,  and community-based participatory approaches.  The anticipated outcomes are to provide innovative solutions with potential major societal impact, to decrease in a measurable and significant way the marked inequities in health that are well-known to exist between Indigenous and non-Indigenous populations, and to build capacity in this field.  The ultimate goal is to support thriving Indigenous communities.
We look forward to the work ahead of us in the establishment of this transformative new Institute on Indigenous Health.
Thank you for your support and excellent work this past year.  We wish you a happy and healthy summer and look forward to continuing our collective work with the start of a new term in the fall.
Howard
Howard Hu, M.D., M.P.H., Sc.D.
Dean
Professor of Environmental Health, Epidemiology and Global Health
Dalla Lana School of Public Health. a Faculty of the University of Toronto
Professor of Medicine
155 College Street
Toronto, ON.  M5T 3M7
Tel:  416-978-1841
Fax:  416-978-7735
Email:  howard.hu@utoronto.ca
Website:  /faculty-profile/howard-hu
Office Manager & Executive Assistant: Melodie Buhagiar, melodie.buhagiar@utoronto.ca