Remembering Robert Remis: A pioneering Canadian HIV and AIDS advocate
October 3/2014
Robert Remis, a public health leader in HIV and AIDS research, surveillance and advocacy, passed away Thursday, September 25, 2014.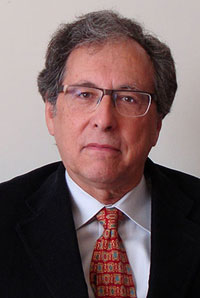 "Robert was a colleague, co-researcher, friend and the most energetic person that I ever met who tirelessly contributed to the health and well-being of diverse communities in Canada and around the world," said Liviana Calzavara, Professor and Social and Behavioural Health Sciences Division Head at the Dalla Lana School of Public Health.
"Though he wore many hats — medical director, physician, educator, researcher, consultant, editor, and expert witness — he will be remembered as a mentor who pushed the boundaries in health to generate knowledge."
Hundreds of children in Ontario are born free of HIV-infection because Remis advocated for pre-natal HIV testing in Ontario. He is internationally recognized for his work on monitoring, modelling and communicating the HIV epidemic in Ontario and Canada.
Born and raised in Winnipeg, Manitoba, Remis earned an MD from McGill University in 1972 and worked as a general practitioner in disadvantaged communities. This experience led him to pursue community medicine and infectious disease epidemiology. He received a Master of Public Health from Harvard in 1981 where he focused on HIV and AIDS epidemiology.
He came to the Dalla Lana School of Public Health in 1996 as an Associate Professor at U of T with a special mandate at the Ontario Ministry of Health's AIDS Bureau. Working collaboratively with the University and the Ministry of Health and Long-Term Care, Remis established the Ontario HIV Epidemiologic Monitoring Unit, which served as a model for other provinces and a source of knowledge for diverse stakeholders.
"He was empathetic while at the same time, provocative and he pursued public health above all else," said Professor Dan Allman, Co-director of the HIV Studies Unit at the Dalla Lana School of Public Health.
Working in both Montreal and Toronto, Remis mentored hundreds of students and published extensively in HIV surveillance.
Ted Myers, Associate Dean of Faculty Affairs, worked with Remis for 18 years and describes his research approach as enquiring, challenging, precise and honest.
"He was passionate, tenacious and globally-minded," said Myers, noting that Remis worked with the Cree and Chipewyan in Northern Saskatchewan, Aboriginal communities in Quebec, the peoples of the Comoro Islands, Burundi, Mali, India, China and US.
Remis is lovingly remembered by his brother David (Paula), his sister Debby (Irving), his son, Samuel (Noriko), nieces Becky, Jill and Rachael, and nephews Josh (Palmira) and Daniel (Morgan), and his partner, Marilynne.
In recognition of Professor Remis's contributions to public health, the Dalla Lana School of Public Health will be establishing an honorary fund in his name. The Fund in Public Health in Honour of Robert Remis will benefit both master and PhD students researching infectious disease prevention interventions for diseases such as HIV, Hepatitis C and STIs and who demonstrate excellence in the spirit of Dr. Remis's passion and advocacy for public health. Click here to make a tax-creditable donation.