U of T supports Universal Health Coverage Day
December 11/2014
In May 1914, John "Gerry" FitzGerald opened the University of Toronto Antitoxin Laboratory in the basement of the University's medical building in a city rife with infectious disease. The lab eventually helped control or eradicate deadly infectious diseases like diphtheria and smallpox by manufacturing vaccines and distributing them for free to all Canadians as a public service. This was bold reflection of the values that have come to underpin the Canadian health system.
One hundred years later, the lab's successor, the Dalla Lana School of Public Health, proudly keeps the universal health care torch lit. The School is participating in the first-ever Universal Health Coverage Day on December 12, 2014, a global coalition led by the Rockefeller Foundation, World Health Organization and World Bank, among others.
"Our contributions to universal health care are among the School's first great innovations and a giant leap forward in addressing health inequities," said Dean Howard Hu, who left the University of Michigan for U of T in 2012. The move, he says, was largely influenced by the opportunity to make greater public health gains in a publicly-funded health care system.
"Now, we must work with local, national and international partners to continue improving health care delivery while striving for sustainable health systems that are resilient to economic variability."
Universal Health Coverage Day commemorates the landmark United Nations resolution on universal health coverage, unanimously adopted two years ago on December 12, and to urge leaders to ensure access to quality health care without financial hardship.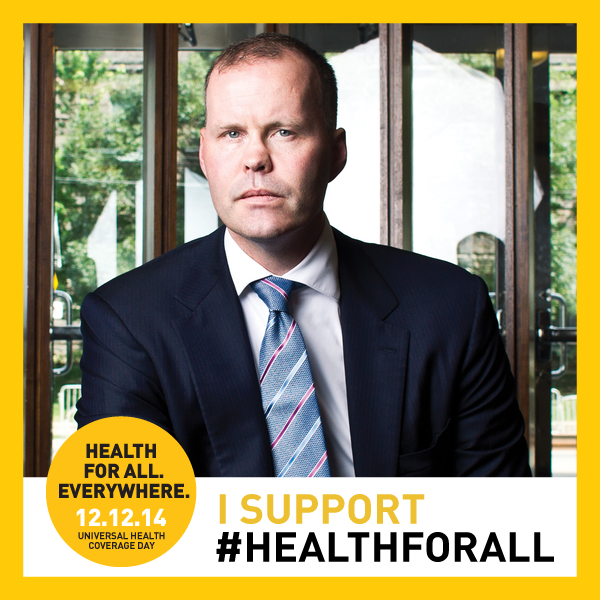 Adalsteinn Brown, Director of U of T's Institute of Health Policy, Management and Evaluation, which recently joined the Dalla Lana School of Public Health, also has rich experience in Canadian and American health care systems and says Canada's system is favourable in many respects.
"Not only does Canada's health care system keep people healthy and provide an economic advantage, it also helps build an inclusive society," said Professor Brown. "The provision of fair access to health insurance is a way of creating an inclusive, stronger society where income does not determine access, and that's something Canadians are proud of."
More than 200 influential organizations are part of the global coalition, including the London School of Hygiene & Tropical Medicine, the Harvard School of Public Health and the Johns Hopkins Bloomberg School of Public Health.
For more information about Universal Health Coverage Day, visit the website.