DLSPH 2014-​15 Annual Report: The beauty of what we pursue
June 29/2015
The Dalla Lana School of Public Health published it's first annual report since its re-establishment in 2008 and achieving faculty status (U of T's first new faculty in 15 years) in July 2013. The beauty of what we pursue is the report's distinctive subtitle thatcaptures the idea that threats to health — such as the Ebola virus, pictured on the cover, as well as social and technological innovations that DLSPH scholars and alumni investigate, teach and execute to protect health — have a beauty that is both hidden and in plain view at the same time.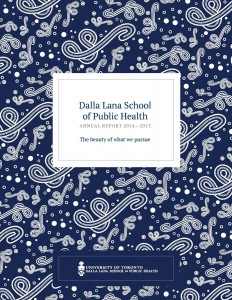 By almost any measure, the School has made enormous strides in the last year in educational expansion, research output, knowledge translation, partnership building and infrastructure development. The transition of the Institute of Health Policy, Management and Evaluation into the School last July is one of the biggest milestones in its recent history. Together, 113 new professors, including 15 core faculty, were recruited and a global health summit hosted more than 750 global health stars as well as hundreds of remote participants across the globe.
All of these achievements and more validate the School's progress and represent an incredible investment, allowing the School to be even more ambitious in ensuring it continues on its upward trajectory as a world-class school of public health. A strategic planning exercise to chart the course for our School has started and, over the past year, the School has established and deepened international education and research partnerships in China, Thailand and Brazil, with additional partnership opportunities in Africa, the Middle-east, Latin America and Asia.
Click here to explore the 2014-2015 Annual Report and read more about the efforts of the School's faculty, students, staff, alumni and supporters. Working collaboratively, the School is building on U of T's proud public health legacy and emerging as a global leader while having a positive impact on local public health in a myriad of ways.
Please send all feedback to communications.dlsph@utoronto.ca.