U of T honorary grad Sir Richard Peto gives global mortality lecture
November 18/2015
We are all going to die. The question is when.
This declaration kicked-off Avoidable premature death worldwide, a lecture by Sir Richard Peto to more than 100 students, faculty and staff at Hart House on November 12, 2015. Sir Richard received a University of Toronto honorary Doctor of Science at the November 11 convocation ceremony.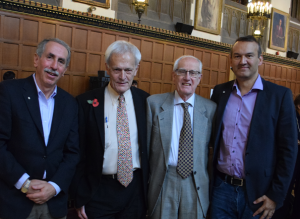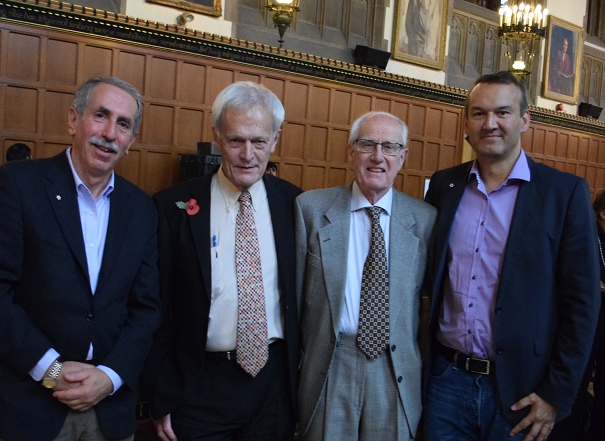 There are approximately 30 million deaths annually before age 70 worldwide, Sir Richard explained, primarily due to perinatal disease in children age zero to four, injuries in people age five to 34 and cardiovascular disease in adults age 35 to 69.
"We could halve mortality in each age range," said Sir Richard, when describing how to make a significant impact on global health.
Sir Richard is a professor of medical statistics and epidemiology at the University of Oxford who introduced meta-analyses of randomized trials and is internationally-recognized for changing the field of epidemiology.
According to widely-cited research by Sir Richard and his team at Oxford's Clinical Trial Service Unit and Epidemiological Studies Unit, approximately 10 years were added to the average lifespan globally between the years 1960 and 2000, a result of medical improvements and smoking cessation.
"In 1960, about 50 per cent of deaths before age 70 were due to smoking," said Sir Richard, who also noted that the poor tend to smoke more than the rich, an example of inequality.
But there have been setbacks too, notably the HIV/AIDS epidemic of the 1990s where Sir Richard described a blip in the declining mortality rates for people age five to 49.
Professor Prabhat Jha was a panelist in the session. He leads the global Million Death Study with the mantra, if you want to help the living, study the dead.
"Sir Richard's research has been enormously influential in documenting avoidable causes of death, most notably the finding that smoking will kill about 1 billion people this century unless there is widespread cessation," said Jha, Epidemiology Professor in the Dalla Lana School of Public Health and director of the Centre for Global Health Research of St. Michael's Hospital.