Well Living House celebrates milestones, looks ahead to stronger future for Indigenous communities
November 30/2015
By: Corinne Ton That, St. Michael's Hospital and Nicole Bodnar, DLSPH
There was singing, a Métis fiddle duo, a movie screening and an appearance by Indigenous Affairs Minister Carolyn Bennett – all of it in celebration of Well Living House, an action research centre for Indigenous infant, child and family health.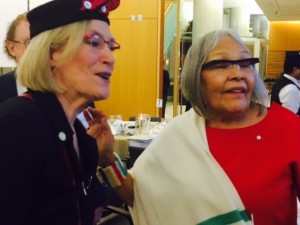 The event — Research as Reconciliation — aimed to promote, celebrate and build new partnerships between urban Indigenous people and health and social service providers and was hosted by St. Michael's Hospital on November 20, 2015.
"Tonight, we're hoping to build new relationships and strengthen existing community partners and community members by showing that building Indigenous ways of knowing and doing into applied health research has tangible benefits," said Janet Smylie, founder and director of the Well Living House, which operates within St. Michael's Centre for Research on Inner City Health.
"In keeping with the theme of reconciliation, this evening is also an opportunity to bridge relationships and new partnerships between Indigenous and non-Indigenous people living in Toronto," said Smylie, also Associate Professor of Epidemiology and Social and Behavioural Health Sciences at the Dalla Lana School of Public Health.
The Well Living House, governed by a counsel of Indigenous grandparents and St. Michael's, seeks to improve health polices, services and programs so that every Indigenous infant is born into a life that promotes health and well-being. The Well Living House consists of a team of Indigenous health researchers, trainees, front-line Indigenous health practitioners and policymakers.
"There was a spirit of generosity throughout the evening that was very inspiring," said Professor Jeff Reading, Interim Director of DLSPH's Waakebiness-Bryce Institute for Indigenous Health who attended the event with Earl Nowgesic, the Institute's Interim Associate Director.
"It's clear that the Indigenous community is very supportive and engaged in the work of the Well Living House and our Institute is delighted to work with Dr. Smylie and her team."
Dr. Carolyn Bennett, Minister of Indigenous and Northern Affairs attended the event and presented an award to the St. Michael's Foundation and said, "This is the about the way forward," in her remarks.
Photo: Dr. Carolyn Bennett with Madeline Dion Stout, Indigenous Elder.