Public Health Students and Alumni Celebrate Mentorship Program
December 7/2015
The third annual Dalla Lana School of Public Health – Public Health Alumni Association Alumni-Student Mentorship Program wrapped up on November 3, 2015, with program participants gathering at Scaddabush Italian Kitchen & Bar in Downtown Toronto to celebrate another successful year of mentorship.
The mentorship program pairs together first-year Master's students with alumni of the school based on shared areas of interest. The 2015 program featured 37 alumni-student pairs, who met over the course of 10 months to discuss career advice, advice regarding courses or practica, networking contacts and the general "feel" for work in their areas of interest.
"Being paired with my alumni mentor has been one of the highlights of my time in the MPH program," said Kandace Ryckman, a student mentee pursuing a MPH in Epidemiology at the closing event on November 3, 2015.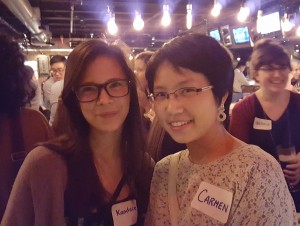 The event also included a special presentation to Jordan Tustin, a graduate of the Community Health and Epidemiology Master's Program, and three-time mentor, who became the inaugural recipient of the Outstanding Mentor Award.
The award was established to honour the dedication of an alumnus/alumna who enthusiastically serves as a mentor in the Mentorship Program. Jordan's mentee, Courtney Smith, submitted a remarkable nomination letter, effectively articulating Jordan's contributions to her professional skills, support of her goals, and advice in academics and career.
Co-led by the school and Public Health Alumni Association, the Mentorship Program continues to be a successful initiative, with the majority of program participants indicating they found the experience to be rewarding and would recommend participating in the program to other students and colleagues.
"The Mentorship Program is a great opportunity to connect with the exceptional students at the school," said Jessica Ferne, an alumni mentor, at the closing event on November 3, 2015.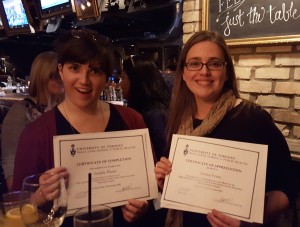 The call for student mentees and alumni mentors for the 2016 Alumni-Student Mentorship Program is now out.
Please contact public.health@alumni.utoronto.ca if you are interested in participating.
To learn more about the program, check out the DLSPH Mentorship Video.