Professor Anita Benoit appointed Interim Associate Director of the Waakebiness-​Bryce Institute for Indigenous Health
January 5/2016
Professor Anita Benoit is the Interim Associate Director of the Waakebiness-Bryce Institute for Indigenous Health (WBIIH) as of January 1, 2016.
"I'm looking forward to furthering the Institute's vision of contributing to thriving Indigenous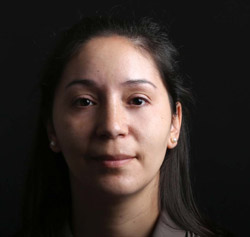 communities, locally and globally," said Benoit, who is an Assistant Professor at the Dalla Lana School of Public Health. She is also an adjunct scientist at the Women's College Research Institute where she completed a Canadian Institutes of Health Research postdoctoral fellowship that focused on understanding life stressors and the mental health concerns of Aboriginal women living with and without HIV.
As the Interim Associate Director, Benoit will work with Earl Nowgesic, WBIIH Interim Director, to continue formalizing a governance structure, collaborative research and training programs and building relationships with Aboriginal, or Indigenous communities and organizations, government and funding agencies, charities and other supporters and partners.
Professor Benoit is Mi'kmaq from the Esgenoopetitj First Nation and French Acadian from Brantville, New Brunswick. She received her Ph.D. from the University of Ottawa, her M.Sc. from Dalhousie University in Microbiology and Immunology and a M.Sc. from the Institute of Health Policy, Management and Evaluation in Health Services Research.
Her research interests include Indigenous women's health, HIV pathogenesis, intervention research, health service outcomes and evaluation, chronic stress and mental health and determinants of health.
"Professor Benoit's research approach of engaging communities and partners fits with the Institute's core value of respectful, sustainable relationships with Indigenous communities, and I am delighted to be working with such a stellar scientist," said Nowgesic, who is an Assistant Professor in the Division of Social and Behavioural Health Sciences.
Photo by Michael Wong, Women's College Hospital.