New Opportunities in Global Health
February 5/2016
Dear colleagues,
I'd like to welcome everyone back and extend my wishes for a prosperous new year.
Before the close of 2015, several faculty members travelled across the globe leading various global health activities, while many explored ways to help global populations from Toronto. As you know, global health is a strategic priority for the School and I'd like to describe a few initiatives that many students, alumni, faculty and staff may wish to get involved in.
Seven faculty members travelled to Shanghai, China from December 3 to 5 for the first in a series of workshops to explore a China-Australia-Canada public health collaboration. Led by Professors Arun Chockalingam and Dan Sellen, the workshop kicked-off the first five-institutional collaboration between DLSPH and the University of Melbourne School of Public Health, Shanghai Jiao Tong University School of Public Health, Shanghai Center for Disease Control and Prevention and the Shanghai Mental Health Center.

Workshop Participants, Dec. 4, 2015.
Workshop presentations were focused on big data (led by Professors David Henry and Prabhat Jha), health systems (led by Professors Daniel Sellen, Arun Chockalingam and Rani Kotha) mental health (led by Professors Kwame McKenzie and Arun Ravindran) and non-communicable diseases (led by Professors Daniel Sellen, Arun Chockalingam and Prabhat Jha).
Professor Kwame McKenzie, Chief Executive Officer of the Wellesley Institute and Arun Ravindran of U of T's Department of Psychiatry, both  partners of DLSPH's Institute for Global Health Equity & Innovation,, led discussions around migrant mental health — an exciting new area of scholarship with implications for the incoming wave of Syrian refugees worldwide.
The collaboration goal is to develop a five-way Memorandum of Understanding that will allow for student and faculty exchanges. Working groups will develop project proposals over next six months and the next meeting will likely be held at DLSPH this fall.
Shortly after my colleagues returned from China, I left for India where I travelled to Delhi, Coimbatore, Chennai and Hyderabad from December 12 to 30 on a series of speaking engagements and meetings with the aim of exploring potential collaborations between DLSPH and the Public Health Foundation of India (PHFI), an organization that represents India's new Institutes for public health training and research.  I visited the two main Indian Institutes for Public Health, which are located in Delhi, India's capital, and Hyderabad.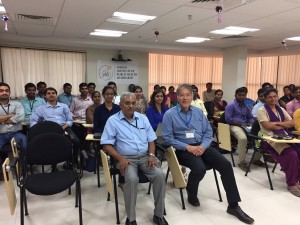 Dean Hu with Dr. GVS Murthy, Director of the Indian Institute for Public Health-Hyderabad, and associated faculty members.
I also visited and discussed potential collaborations between DLSPH and the Shanti Ashram Foundation, a grassroots organization that delivers maternal and child health services integrated with public health and health promotion services to low-income neighborhood surround the metropolitan area of Coimbatore.
Together, these institutions comprise an outstanding set of new global health opportunities for DLSPH faculty and students.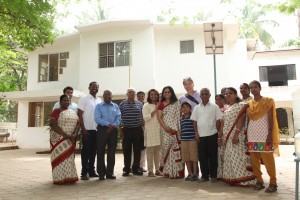 Dean Hu in Coimbatore, India on Dec. 20, 2015
Dr. Srinath Reddy, President of the Public Health Foundation of India, gave a talk at DLSPH on January 14 entitled, India's Journey Towards Universal Health Coverage, and met with many of the Faculty's academic leaders to discuss student practicum and other exchange opportunities.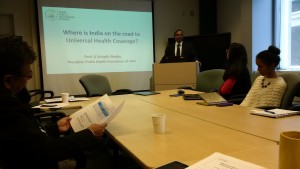 Dr. Srinath Reddy at DLSPH on Jan. 14, 2016.
Finally, further to my December 2015 message about the School's humanitarian response to the Syrian refugee crisis, I'm delighted that members of our Faculty have formed a team and are taking steps to make a tremendous difference for one Syrian family.
As Syrian refugees come to Canada to build new lives, they need immediate, essential services and long-term support to ensure their successful settlement and integration into Canadian society.  This is where our community can help.
Dalla Lana School of Public Health faculty, staff, students and alumni have come together to form a team that will sponsor one Syrian refugee family through the University of Toronto's involvement in the Ryerson University Lifeline Syria Challenge, a collaboration with OCAD University, University of Toronto and York University.
Team DLSPH is looking for volunteers to contribute their time and for donations to meet their financial target of $50,000 to support one family during their first year in Canada. To learn more, volunteer your time or donate money please visit the Team DLSPH website.
All members of our Faculty are uniquely positioned to have a tremendous impact on global health through international partnerships, collaborative scholarship and humanitarian efforts.  I invite you to visit the Global Health section of the website to learn more about the Faculty's global health activities and follow our Facebook page for photos from these global health trips, and much more.
Best regards,
Howard Hu