#Rio2016: Sports medicine physician leverages front row Olympic seat to examine structure of sport funding in Canada
August 12/2016
Sports medicine physician and U of T alum, Dr. David Lawrence (MD '13, PGME '15), is a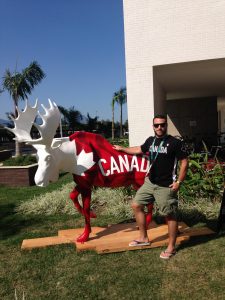 member of the Canadian Health Services Team with a front row seat in Rio de Janeiro— South America's first role as Olympic host — to swimming, rugby and other events. As an incoming public health sciences graduate student, Lawrence shares his insights on the games with the Dalla Lana School of Public Health through a sports sociology lens.
What is your role with Team Canada?
I am a health and science volunteer, which I like to think of as a "utility player" for the medical team. At large multi-sport games, everyone has their role to play, but must also be willing to help out in whatever capacity is required. My role can vary from helping in the clinic, changing towels, refilling ice, collecting injury data, etc. My role is to support all members of our multi-disciplinary core team.
A number of public health issues are highlighted by this Olympic Games (Zika, environmental health, social determinants, etc.). Given this context, can you share any reflections on your time so far in Rio? 
First and foremost, I cannot stress enough how generous, welcoming and kind our Brazilian hosts have been. I am staying in Copacabana and commuting to the Olympic Village in Barra every day, which takes approximately one and a half hours. I use public transportation that is quick, clean, and efficient. Furthermore, I have never felt unsafe and I often travel late at night, walking through Ipanema and Copacabana well past midnight.
With respect to poverty, it is often hard gauge prevalence of poverty during major sporting events as measures are usually taken (even within North America) to reduce its visibility in urban centres. However, its presence can still be felt and seen throughout Rio de Janeiro. Travelling in and out of Copacabana allows for a glimpse into the outskirts of some of the surrounding Favela's, the lights of which are clearly visible at night from the beach-parties hosted by the IOC…
I am probably not qualified to comment on mosquito borne illnesses, including Zika virus. Despite the perceived attention given to Zika prior to the games, its influence on daily routine's here appears minimal. Most individuals from the Canadian contingent are using primary prevention strategies (mosquito repellent, long sleeved clothing, etc.) and will employ techniques to prevent transmission (i.e. barrier protection during sexual intercourse).
Why did you choose to purse a Master of Public Health in Epidemiology?
I chose to complete an MPH through DLSPH to develop and learn skills in order to study, evaluate, and effect change at a system level. I have an interest in both sport-related brain injuries and the sociology of sport. Attending the Olympics has provided a novel perspective into the motivation and organization of the event.
The structure in sport in Canada needs to be critically appraised systematically analyzed. Olympic sports and athletes receive significant financial support from the publicly funded federal budget, despite a lack of evidence demonstrating a "trickle-down effect" of elite sport to increase health promotion and physical activity at a population level. Furthermore, access to certain publicly supported Olympic sports within Canada is, anecdotally, restricted to individuals from a privileged socioeconomic status which establishes a participation parity barrier. This potential segregation and inequitable access needs to be studied further.