Dr. Suzanne Stewart named Director of the Waakebiness-​Bryce Institute for Indigenous Health
December 9/2016
Dr. Suzanne L. Stewart is the new Director of the Waakebiness-Bryce Institute for Indigenous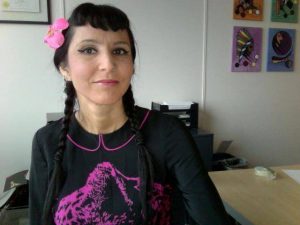 Health as of January 1, 2017, following a search conducted by representative committee of Indigenous and DLSPH leaders facilitated by a firm specializing in recruiting for Indigenous academic positions.
"I am delighted to welcome Suzanne to this role and look forward to working with her to enhance existing and build new partnerships with Indigenous peoples, leaders, organizations and with all levels of government," said Howard Hu, Dean of the Dalla Lana School of Public Health.
"I would also like to thank Drs. Earl Nowgesic and Anita Benoit, the interim executive and associate directors of the institute, for their many contributions, including launching the community-based Indigenous health intervention research project funding and supporting a number of new research studies."
Dr. Stewart is a member of the Yellowknife Dene First Nation and holds the current Canada Research Chair in Aboriginal Homelessness and Life Transitions. For almost ten years, she has been a registered psychologist and Associate Professor of Indigenous Healing in Clinical and Counselling Psychology at the Ontario Institute for Studies in Education (OISE). For five years she has been special advisor to the OISE Dean on Aboriginal education, and more recently, Interim Director of the Indigenous Education Initiative.
"I am honoured to be the first permanent director of the institute and to work with talented scholars of diverse backgrounds from across the university and beyond to have an impact on Indigenous health," said Dr. Stewart.
"I believe that it is very important to establish permanency in Indigenous knowledge in all the health disciplines across universities and I endeavour to work collaboratively with as many scholars, community organizations, First Nations, and individuals as possible."
As Director of WBIIH, Dr. Stewart will act as the Institute's chief scientific and administrative officer and work closely with WBIIH's Community Advisory Council to foster research and scholarly innovation in Indigenous health.  She will work together with a powerful consortium of affiliated Indigenous health centres, such as U of T's First Nations House; the Aboriginal Community Council of the Ontario Institute for Studies in Education; Well Living House at St. Michael's Hospital; and Anishnawbe Health Toronto.
Dr. Stewart's research and teaching interests lie in Indigenous mental health and healing in psychology, including issues related to homelessness, youth mental health, identity and work-life development. She is one of the world's leading scholars in Indigenous knowledge and mental health and is committed to advancing Indigenous healing issues through research and policy change.
She is also Chair of the Aboriginal Section of the Canadian Psychology Association, has served as a guest editor for the International Journal of Health, Promotion and Education and has chaired the annual Indigenizing Psychology Symposium at U of T for six years.
Established in 2014 with a $10-million gift from Drs. Michael and Amira Dan, the Waakebiness-Bryce Institute for Indigenous Health aspires to provide innovative solutions to promote thriving Indigenous communities — one of the biggest inequity issues facing Canadians — using multidisciplinary, population and community-based participatory research approaches. Following the gift, WBIIH established a Community Advisory Council of Indigenous scholar and leaders across Canada to shape the Institute's mission and enhance community-based collaboration.