Six public health and health services students receive Gordon Cressy Award
March 8/2017
Three Dalla Lana School of Public Health and three Institute of Health Policy, Management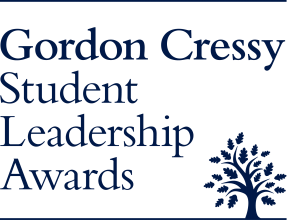 and Evaluation students received a Gordon Cressy Student Leadership Award in recognition of their outstanding volunteer contributions to the University of Toronto community on February 28, 2017.
This year's recipients include: Linda Kachuri (PhD Epidemiology), Kathleen Murphy (MPH Health Promotion), Alexandra Piatkowski (MPH Epidemiology), Aviroop Biswas (PhD Health Services Research), Mark Tatangelo (PhD IHPME) and Rosemary Yachouh (M.Sc. Health Services Research).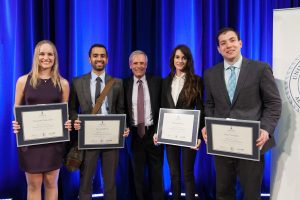 "I feel honoured to receive this award, and privileged to be part of such a supportive school community," said Murphy, who served as co-President of the Public Health Student Association. "Having the opportunity to take on leadership roles within the DLSPH is a sentiment to the engagement of our student body, and the eagerness of students to contribute to enriching the graduate experience of their fellow classmates."
Award criteria include volunteer service, community building and quality of life improvement. The Award was established in 1994 by the University of Toronto Alumni Association and named after Gordon Cressy, U of T's former vice-president of development and university relations who had a strong commitment to higher education, fundraising and community service.
"In the CIHR STAGE program I've had the chance to have informal conversations with visiting international researchers about their work or career path. Over the years, I have met many preeminent scientists in the field that were approachable and shared valuable career advice for junior scientists," said Kachuri, who obtained her MPH in Epidemiology at DLSPH in 2012.
"These experiences have helped me learn about the kind of collaborative and engaged scientist I hope to become — someone who takes initiative and gives back to the research community."
With convocation around the corner, it's a good opportunity for students to reflect on why they chose public health and ask about their plans after graduation.
"I want to use my background in public health and epidemiology to shape evidence-informed policy and affect change at the system level," said Piatkowski, who has particular interest in chronic disease prevention and management, the social determinants of health, policy, and evaluation.
"One of my ultimate goals is to get more involved in politics and potentially run for office. I look forward to what the future will bring!"
Award recipients will be recognized at a ceremony in Convocation Hall on April 25, 2017.
Click here for more information about the award and the award celebration.
Click here to read about the IHPME award recipients (page 2).
Click here for award ceremony photos.