"I Was Shocked in a Good Way"
September 8/2020
How a U of T Professor Reimagined Land-Based Learning Online
When Prof. Angela Mashford-Pringle learned she would have to put her ground-breaking land-based learning course online, her heart sank. How could a course built around an Indigenous connection with the land work remotely?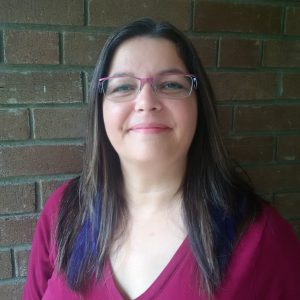 She didn't think it could be done – and at first, she was adamant that it wouldn't be done.
But her own students convinced Mashford-Pringle to give it a try. "They asked what about immune-compromised people or students with kids? I thought about the people who would have to go through COVID to get to me, and why am I doing this to them?" recalled the associate director of DLSPH's Waakebiness-Bryce Institute for Indigenous Health.
"I dreamed how to do it, like having a vision," she says. "I realized even though they couldn't go through a Medicine Walk or start a fire with Elders, they could still interact with the land."
It took two-and-a-half weeks to work out a new format without the traditional week-long stay at Hart House Farm north of Toronto. What emerged included lots of holistic, community-building discussion, but also an increased emphasis on each student's personal relationship with the land they live on.
"I know it was hitting notes with people," recalls Mashford-Pringle. "They were asking questions, engaging with things on their own. Here's something I worked very hard to put on the land and then I had to make it virtual — but it worked. I was shocked in a good way."
Launched just a year ago, the course (pictured above and below) became U of T's first exclusively land-based learning opportunity, and one of Canada's first to focus on health and the land.
Normally, participants live, learn and cook together at the university's rural retreat in the Caledon Hills, participating in nature walks, fire ceremonies and a sweat lodge. The group learns about the importance of the land to Indigenous culture and well-being. Mashford-Pringle hopes this will help students to understand how the removal of that connection through displacements such as residential schooling has profoundly impacted Indigenous people's health.
This summer, she offered the course in mid-August to ground students in Indigenous thought before they learn Western methodology. The early learning was an opportunity for Prof. Robyn Lee, who teaches epidemiology at DLSPH, to pick up ideas to inform her own teaching in the future.
"I really liked the combination of asynchronous and synchronous lectures, so it wasn't a full day of non-stop didactic teaching," says Lee. "Dr. Mashford-Pringle also included sessions led by Indigenous Knowledge Keepers, which gave students the opportunity to really learn and ask questions. She also took the time for detailed introductions, with everyone explaining why they were in the course and what they hoped to gain from it. I think that's something we might miss online, building those connections. She did it incredibly well and it's something I'd really like to carry over into my courses."
Lee, who has worked in public health with Inuit communities in the Arctic, was drawn to the course as an opportunity to help make up for the lack of teaching on Indigenous Health in her own formal education; most of her knowledge was learned on the job. The course helped her to better understand why traditional Western approaches to disease reduction might not always work in Indigenous health contexts.
"We often use deficit-based statistics in epidemiology," which focus on risk or problems, she says. "But this can take away from the positive work communities are doing in reducing the burden of disease, infectious or otherwise. It is important to really emphasize and learn from these strengths when working in public health."
That lesson was not lost on student Emma Rice, who recently moved to downtown Toronto to start her Master of Public Health degree at DLSPH.
"Land-based learning really is focussed on resilience and strength as opposed to just the deficits and the statistics," says Rice, who hopes to work in Indigenous health policy.
The course's land-based activities, including a 30-minute nature walk and close observation of a tree, helped to situate Rice in her new community. "It promoted connection to the land we're on currently," she says. "There's an eagle that likes to visit a field near the tree I chose. I found a lot of Cicada shells, and didn't realize they shed their shells on trees. It was interesting to see that symbiosis. It's tied to that idea of 'all my relations in creation' — that we all exist together in that space. It helped me understand our responsibility to not impose too much on that space."
Encouraged by the positive feedback, Mashford-Pringle has been discussing the possibility of expanding online teaching in Indigenous Health, so that Indigenous people from the North and other remote areas can learn without leaving the lands they live and work on.
Building community – an integral part of Indigenous teaching and learning – is easier in person, Mashford-Pringle acknowledges. But keeping the course to less than 30 students and including casual social opportunities, like group lunches, helped the students get to know one another. And the online environment, she discovered, cultivates a very purposeful interaction that can be meaningful.
"On the land, you're kind of 'on' all the time," she observes. "Online, you can choose how you want to engage, and who you're going to engage with."